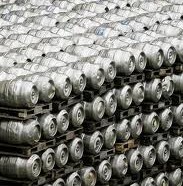 Liquor inventory: The fastest way to take physical inventory of draft beer kegs. If you own or manage a bar, you probably are involved in performing liquor inventory each period at your bar (either weekly, every other week or monthly). Typically this isn't one of your favorite tasks therefore anything that helps you do this task faster is a welcome.
The most common method bars use to take inventory of their draft beer kegs is to give them a shake and then tenth them. A more accurate method is to buy a scale which is heavy enough to weigh full draft beer kegs but putting every draft beer keg on a scale is back breaking work! As professional liquor inventory monkeys we like to think we've learned a few tricks and here's a tip on how to take physical inventory of your draft beer kegs in a faster, more accurate and efficient way. Sorry it's not free. You need to go and buy one of these: http://kegcheckusa.com/kegcheck.html
If you're looking for an upgrade on more than just the way you take physical inventory of your draft beer kegs this article is worth a read.
Video - Bar-i product demo