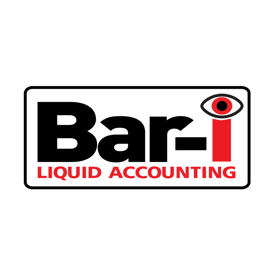 Bar-i is currently offering franchise opportunities to individuals who have extensive bar/restaurant industry experience and would like to make a change from the service industry lifestyle.
Many long term industry people didn't plan on making this their career, but have found that they've stayed in the bar industry as they've gotten older. In some ways, there are sustainability issues associated with jobs that require you to work until midnight or in some instances 2am-3am on a regular basis. By putting your industry knowledge to use on the inventory side, you can make a significant lifestyle change while remaining a part of the bar/restaurant industry.
Due to the proven success of inventory companies such as Bar-i and Bevintel/Sculpture Hospitality, this has become a rapidly growing field. Many bars and restaurants are acknowledging the profitability benefits of using advanced inventory software, making this an excellent time to break into the liquor inventory business.
If you think you may be a good Bar-i franchise candidate and would like to learn about the next steps in the process, we encourage you to call (970) 281-7779 to discuss the opportunity in greater detail.
The Allure of the Restaurant Industry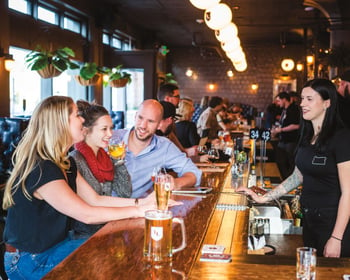 Let's face it – the traditional 9-5 office lifestyle isn't for everyone. Many people initially get into the restaurant industry because they prefer the cubicle-free, flexible lifestyle it affords. In addition, restaurants and bars are a very social working environment, making them an ideal fit for people who strongly value being in a social atmosphere at all times.
Essentially, you are in the business of having fun when you work in the bar/restaurant industry, and this is one of the greatest appeals to these jobs. Many people choose to spend their valuable free time with friends and family at bars and restaurants because they are such fun environments. As a result, these establishments become a very important part of most people's social lives.
It feels great to be a part of cultivating an environment where others want to spend their time, and you often make meaningful, long lasting relationships with many of the people you meet while working in a bar or restaurant. For these reasons, many people find it hard to leave the service industry once they become entrenched in it for several years.
Challenges to the Restaurant Industry Lifestyle
Over time, many people find that there are two main challenges associated with making a career in the bar/restaurant industry:
When you are working in a bar or restaurant, you're always working the busy hours (nights and weekends), and these are often the hours you'd rather spend with your family or socializing with friends. As you get a little older and potentially want to start a family, having to work these hours can often conflict with your evolving lifestyle.
In addition, many people find that there is a ceiling on the levels of compensation that can be earned in the bar/restaurant industry. At first you can achieve consistent improvement in earning ability. Most people work their way up from positions such as bussers or hosts to servers and eventually bartenders. At the same time, you may be able to transition into higher end establishments as you become more experienced. All of this will result in a steady improvement in your income.
However, at some point this increased earning capacity will begin to level off. As you become one of the longer tenured employees at your restaurant, you may be asked to take on a management role. Unfortunately, management positions often involve greater responsibility for equal or less pay. If you want to significantly increase your earnings at this point, you will need to own your own establishment. This often isn't a viable option due to the financial risk associated with owning a restaurant, creating a situation where you will need to change career paths in order to significantly improve your earning potential.
Owning a Bar-i Franchise Offers an Appealing Alternative to the Service Industry Lifestyle
Providing inventory services to bars and restaurants can be a logical progression to your current career path. It can provide you with a solution to the two main challenges associated with remaining in the restaurant industry. In addition, you will experience a variety of benefits when you become a Bar-i franchisee:
Stay in the industry you know and love – You will get to use your existing skills instead of starting from scratch in a completely new field. While you will certainly learn new skills as a result of making this career transition, these new skills will build on a knowledge base that you've already spent years cultivating. This will help you hit the ground running and minimize the learning curve required to become successful in an entirely new field.

Work a more regular schedule – Bar-i employees don't usually work a traditional 9-5 day, but the hours are much more regular than those worked in a restaurant or bar. At Bar-i, we typically work 7-4 and there is some flexibility to this schedule if you need it. Scott, one of Bar-i's co-founders, has a young child and he really likes being able to cook dinner for his son and put him to bed at night. These are things that are much more difficult to do if you have to work typical bar/restaurant hours.

Front-loaded work week allows for flexible Fridays – The most popular days to do inventory are Monday, Tuesday and Wednesday since these are typically the quieter days at bars and restaurants. As a result, you will rarely have work scheduled on Fridays. Bar-i tries to give its employees Fridays off as much as possible, providing you with frequent long weekends. Many of our employees appreciate the freedom associated with being able to take these long weekends, and they find it is a more than worthwhile trade-off for having to work on some holidays.

Franchise removes shackles of a fixed salary – Since you own your own business, there is no ceiling to your earning ability. Your income will be directly tied to your ability to successfully grow your business instead of arbitrary annual raises provided by a boss. In addition, you will have the long term possibility of a passive income stream as you grow your business and your employees start generating income without you having to do all the work.

Master of your destiny – You will own a business. As a result, you're the boss, albeit with a few restrictions associated with using a proven system. The idea of a franchising system is to expand the reach of an existing business model. This requires consistency and a commitment to doing things the "Bar-i way." There are a number of restrictions and guidelines associated with working for a franchise which limit your autonomy to some degree, but these limits in autonomy are in exchange for being able to use a proven system that helps you become more successful, scalable and profitable over time.

Prime territories are still available – Bevintel/Sculpture Hospitality franchisees are somewhat limited in the areas they can market to due to the fact that many prime territories are already taken. Bar-i franchising opportunities are still in their early stages, and this means most of the prime territories across the country are still available. Ultimately, this will help you maximize the earning potential of your new business.
Important Caveats to Keep in Mind as You Enter the Inventory Business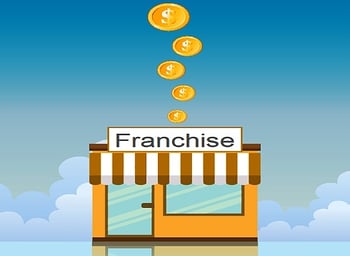 If you have significant bar/restaurant experience, ideally including management experience, a Bar-i franchise offers you a solution to the two main challenges associated with remaining in the service industry long term (hours and compensation). However, it's important to keep the following caveats in mind as you decide whether this opportunity is right for you:
Building a business takes time – It's unrealistic to expect success to come overnight. As with all start-up businesses, it takes time to get off the ground and start making money. You will most likely experience a temporary salary reduction due to the costs associated with starting the business and the likelihood of some lean months early on as you start to build up your client base.

However, you can potentially maintain steady earnings as you build the business by keeping some of your night bar shifts at your current place of employment. This would create a very busy work life for your first 6-12 months as a Bar-i franchisee, but it would likely allow you to maintain your current lifestyle while you grow your fledgling business.

You will need to work very hard – Growing a successful business is hard work that requires very long hours, especially early on. You may even find that you're working much harder in the short term than you're used to. However, as your new franchise becomes successful, you will be able to scale back your hours accordingly.

There is significant risk – Anytime you start your own business, there will be significant risk involved. While you'll receive a great deal of support from Bar-i, this is ultimately your business and you will be responsible for ensuring its success.

You're replacing late nights with early mornings – In the short term, you may find that this is a significant adjustment to your lifestyle. However, you will get used to these new hours relatively quickly and at that point, they won't feel so early to you anymore. In addition, if you have young children or are planning on starting a family soon, these hours will be much more sustainable than working late nights and weekends.
If you're interested in learning more about Bar-i's franchising opportunities, please call (970) 281-7779 to speak with our owners. You can also click the Request Franchise Guide button below to receive additional information about our franchising opportunities.