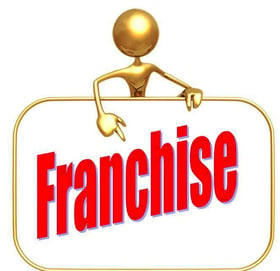 Bar-i has recently begun offering franchising opportunities to individuals who would like to pursue a career in the liquor inventory business. This is an exciting time to become part of the Bar-i team, and some of our early franchisees will have an opportunity to play an integral role in the growth of the company over the next few years.
If you think you'd be a good Bar-i franchisee candidate, we encourage you to call 970-281-7779 to discuss this opportunity with Scott and Jamie in greater detail. In order to fuel your burgeoning excitement over this opportunity, we've listed the top 8 reasons to become a Bar-i franchisee below.
Unlimited Growth Potential
Bar-i is a growing company that's looking for partners to share in both the work and the benefits.
Sharing the work – We need independent people that are going to take ownership and run an entire business on their own. It's important to realize that you'll be expected to shoulder a decent amount of responsibility and put in the hard work necessary to make your new franchise successful.
Sharing the benefits – As a franchisee, you'll share a much larger piece of the pie than you would as an employee. Our franchise model gives you the ability to be the master of your own destiny and preside over a lucrative business of your own. In addition, there is an opportunity for early adopters to become master franchisees (an area franchisee that helps sell future franchisees down the road) or super franchisees (by owning multiple territories). These roles don't currently exist in the company, but as more franchisees come on board, there will be a need for them. Getting in on the ground floor gives you a leg up for growing into these roles as they develop over time.
Unrestricted Choice of Territory
Since our franchise program is just getting started, all territories in the United States are currently available. This means the best marketplaces are up for grabs. You'll have the ability to choose whatever territory will provide you with the best opportunity for growth.
In the future, territories surrounding your initial area will be available. This provides you significant opportunity for growth as you begin to experience success. You're not constrained by the success of the existing business, which is a significant benefit compared with becoming a franchisee of a liquor inventory company that already has a large number of franchises set up throughout the country.
Large Protected Territory
As part of the Bar-i franchise model, you'll receive exclusive rights to a geographic territory. Our standard territory contains 500 on-premises licenses (consisting of bars, restaurants, hotels, night clubs, and other venues which serve alcohol on premises). This compares favorably to a Bevintel/Sculpture Hospitality franchise which offers a territory of 250 on-premises licenses for double the price.
Our flexible model also allows you to source up to 15% of revenue outside your protected territory via our remote service self-count model.
Variety of Services Offered
Bar-i currently offers 4 different tiers of liquor inventory services to the bars and restaurants we work with. This gives you the ability to offer a range of services which should fit the varying needs of individual establishments in your territory.

The 4 levels of service we currently offer include:



Free Count – A marketing tool that generates leads for you (we've had over 2,000 Free Count downloads to date)
Speed Count – Our entry level product which only costs $50/month. Speed Count allows you to use scales and software, but doesn't provide the actionable accountability data that comes along with our premium service options. Speed Count simply reduces the time it takes to perform inventory and calculates your liquor cost.
Speed Count Pro – Our most affordable service providing accountability data. Speed Count Pro starts at $300/month. It gives you the ability to compare ounces rung vs ounces poured, and it employs a remote business model. You'll need to go to the bar to set up the system, but after that all data transfer is conducted using the cloud. This provides better scalability.
Full Service Inventory System – This is our most commonly used service, comprising approximately 2/3 of all existing business. Our full service inventory option costs $500/month on average. This option provides the most hands-on service and delivers the most detailed information to clients.
The interaction between Speed Count Pro and our full service inventory system allows you to fill up your schedule a lot more easily, which will help you make more money. It's possible to perform inventory at a bar in the morning and then spend the rest of the day processing Speed Count audits for clients who are counting their own inventory.

With our self-count model, Scott is often able to perform 8 audits a day, so you have the ability to do a large volume of business.
Low Initial Cost
Our initial franchise fee is $20,000, which compares favorably to both franchises in general as well as other franchises in the bar inventory industry. If you'd like to expand down the road, you'll be able to purchase additional territories for $10,000.
Each franchisee receives a 5 year initial term. You can then renew your franchise license for $1,000 or less.
These low franchise costs allow you to maximize your potential return on investment.
Simple and Fair Royalty Structure
The franchise fee discussed above refers to the upfront payment made in a franchise model. However, you'll also have to pay royalties. Royalties are the ongoing fees you pay as a percentage of your revenue.
Bevintel/Sculpture Hospitality charges a flat fee per audit regardless of how much revenue was generated. Franchisees are also subject to escalating minimums each year.
Bar-i's royalty model is simply 8% of revenue, and there are no royalty minimums. This gives you the flexibility to perform discounted work without being penalized.
If you're a Bevintel/Sculpture Hospitality franchisee and you want to do a free/discounted audit or an audit for a lower cost client, you get stung with their flat fee since it essentially makes the fee a larger percentage of your revenue. By allowing you to do free audits, our 8% of revenue model allows you to avoid getting overcharged for these free/low cost audits that are often necessary to get your business up and running.
We believe this is a fairer model. Also, there are no escalating minimums each year. Bar-i doesn't take money off of you until you're succeeding, which also makes us more invested in nurturing the success of your fledgling business.
Growing Industry


Did we mention that the liquor inventory industry is growing? That makes it a great time to get involved.

As a comparison, let's look at the adoption of POS systems by bars and restaurants across the country. The majority of bars and restaurants weren't using modern POS systems 15 years ago. But over time, most owners started to see the benefits of these systems.

Currently, the only establishments that aren't using modern POS systems are low end dive bars that aren't on the forefront of anything in the bar/restaurant industry.

The adoption rate for sophisticated liquor inventory systems is a little less than 25%, which is somewhat of a low adoption rate. However, in the last few years we've noticed a growing realization among bar owners that using a clipboard to calculate liquor cost is both inefficient and ineffective. It's resulted in an increased adoption rate in recent years, and we expect that trend to continue moving forward.

Use of Modern Technology
Since Bar-i is a newer company, we're able to leverage new low-cost technology:



We have the only inventory system on the market utilizing voice command technology to perform counting.
All software and reports are backed up in the cloud, resulting in seamless updates and instant access to all files. If you're having difficulty with a particular audit, Bar-i will instantly be able to access all of the information, enabling us to dive in and provide better support to you.
Initial training and ongoing support is conducted via video training, online meetings, and questionnaires in order to maximize the efficiency and value of the in-person training we provide. By transmitting the basic foundation of knowledge through these technological mediums, it'll make your initial 2-week training in Colorado and our 1-week visit to your territory that much more effective. You'll be able to hit the ground running because you'll already be familiar with the material.
If you think you have what it takes to run a successful Bar-i franchise, please call (970) 281-7779 today to learn more.