A popular method bar owners use to gauge how their business is performing is evaluating their beverage cost. Often, historical numbers are compared to current numbers: if beverage cost percentage is 20% this month and 20% last month and 20% a year ago, the owner is content with the results and moves onto a new project.
There are two problems with using beverage cost as a metric for the success of your business.
Many Different Factors Affect Your Beverage Cost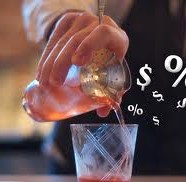 It's true that bartenders' performance affects your beverage cost, but so do changes to product mix, the wholesale cost of product and the price you charge customers. With all these factors influencing your beverage cost each period, it's impossible to establish two crucial facts:
Is each drink which is poured in your bar being rung into your POS system?
Is each drink being portioned correctly?
When you think about it, these two factors have a massive influence on your beverage cost, and therefore your business's profitability. If you can't confidently answer "yes" to those two questions and be able to provide a concrete reason why, then your liquor cost is too high.
It Builds Past Deficiencies in Performance into Your Expectations
Comparing your current results to what you have done in the past only confirms status quo. In an industry where 20% liquor inventory shrinkage is typical, using historical numbers as a gauge builds past inefficiencies into your evaluation.
Bar-i provides bar owners with reports that include current beverage cost, and what achievable beverage cost is. Achievable beverage cost is what your beverage cost would be if every drink were poured and charged correctly. Now you can see what all the product that is not being accounted for is costing you.
Remember that if your beverage cost is 1% lower, you will retain an extra 1% of your total Liquor Sales as profit! Having a goal and a guideline of "achievable beverage cost" will produce more profits from each customer that is already in you bar.
If you would like to learn more about how Bar-i can help you maximize profits and improve your bar's performance, please contact us today to schedule your free consultation. We serve clients nationwide from our offices in Denver, Colorado.