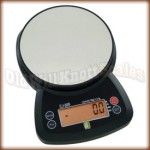 In Part 1 of this series, we discussed the importance of pouring practice. Now, we'll explain the best ways to implement this at your bar.
Essentially, pouring practice involves taking an empty bottle, filling it with water, putting a speed pourer on top, and having your bartenders pour drinks into glasses until they come out consistently. There are a few different ways to do this:
Have bartenders po

ur into shot glasses or some other glassware in the bar

–

This method can be problematic because your bartenders are learning to pour by looking at the liquor level in the glass. There is no degree of accuracy achieved by this method, especially if you use a different glasses when pouring certain drinks. In addition, ice will impact the correct liquor level when you are pouring for customers making it an inexact science.

Purchase a specialized pour testing kit

–

There are several different pour testing kits available. Most use test tubes with markings on the side to indicate how much liquor has been poured. This method is problematic as well. Often, there are so many marks on the side of the test tube that it becomes difficult to read the amount of liquor you are pouring. Due to the challenges associated in reading the liquor levels on the test tube, this is not a very accurate method.

Scale method

–

This is Bar-i's recommended pouring practice method. We recommend that you purchase the

Jennings JScale CJ-4000 Table Top Scale

. It costs under $50 and reads to 0.02 oz. When using this method, you take the glass you want to practice with, put it onto the scale and tare it to zero. Start pouring into the glass, and count out loud while you are pouring. The instant you stop pouring you will have easy to understand feedback telling you not just whether you are over or under-pouring but the exact size of the error. Since this method is quick and easy, you can practice many pours in a short space of time and we all know what practice makes… By using this precision scale, your bartenders will develop an accurate count. For example, if a bartender uses a 3-count to try and achieve a 1.5 ounce pour, but the count only delivers 1.3 ounces into the glass, he will know a slight adjustment to the count is needed. By repeating this process weekly, your bartenders will be able to refine their count to ensure it delivers the desired amount of liquor consistently and accurately.
Bar-i can help you make these kind of data-driven adjustments which, when taken over thousands of drinks per month, will significantly reduce your liquor cost. Using this trick combined with our proprietary liquor inventory system, we have helped of our clients reduce their costs by more than 3% on average.
For additional tips on how to streamline your bar processes or to schedule a free consultation, please contact Bar-i today or call 303-219-0196. We provide services to bars nationwide from our offices in Denver, Colorado.