If you're considering upgrading to a more sophisticated bar inventory system, you must first determine what you want to achieve from your inventory efforts. There are many app-based systems available that will significantly reduce the time you spend on inventory. However, most of these systems don't provide the detailed, accurate reports necessary to improve profitability.
If you truly want to get the most out of your inventory efforts, you should be using them as a profitability tool. At Bar-i, we've created an inventory system intended to provide you with the data necessary to identify poorly performing products, and our reports contain suggestions on steps you can take to correct these problems and improve profitability.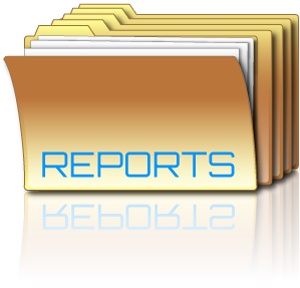 When we initially designed our inventory system, we put a tremendous amount of thought into it to ensure our data would be as accurate as possible. There are many reasons why we're able to deliver some of the most accurate reports in the industry, and the actionable data you'll receive from these reports is the primary factor that distinguishes Bar-i from many of the other inventory providers you can choose from.
Professional Oversight
All of Bar-i's pro version products that provide accountability data include professional oversight. You'll have a fully independent bar inventory specialist who will check your results over. There are three important ways that you'll benefit from this professional oversight:
This professional is an independent third party expert who doesn't have any conflicts of interest. Our only motivation is to provide the most accurate results possible, ensuring you get an honest assessment of your bar's performance.


This professional is extremely familiar with taking bar inventory and has become a specialist in the field. Our specialists have the knowledge necessary to identify trends in your data that may not be apparent to someone with less experience in the bar inventory industry.


Your dedicated inventory specialist has the time necessary to ensure the job is done right. Bar-i is being paid to perform one task – your inventory audit – so there will never be a situation where your inventory expert will say, "I didn't have time to get to that analysis" the way a bar manager who has many other responsibilities might say from time to time.
Ultimately, the professional oversight of your inventory ensures we're able to provide the attention to detail necessary to deliver excellent results.
Barcodes are Used to Improve Speed and Accuracy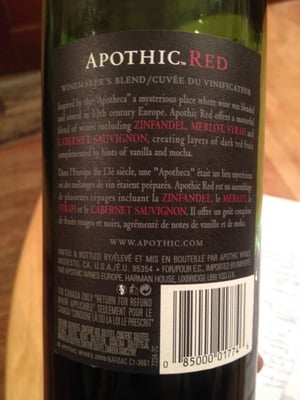 The vast majority of products served at bars – all bottled and canned beers, liquor products, and most wines – have barcodes. This barcode technology has been around for a long time and it's very reliable. Therefore, it makes sense to use this technology to our advantage.
Many app-based inventory systems require you to type in the name of a product to identify it in their system. However, this organizational structure creates problems with identifying the right product. For example, if you enter "Jameson" into an app-based system, you're most likely going to see a variety of products show up, including:
Jameson 1.75L
Jameson 1L
Jameson 750mL
Jameson 375mL
Jameson Black Barrel
Jameson Caskmates
Jameson 12 Year Aged
The variations such as Black Barrel and Caskmates all have 2-3 sizes as well. Even if you identify the right product, you must deal with a clunky process that creates more opportunities for errors.
At Bar-i, we've chosen to identify products by scanning their barcode for several reasons:
It's quicker
It's easier
It ensures you always identify the right product
The use of this hardware increases your initial setup costs, but the barcode scanner is a modest cost of $50 that will significantly improve the accuracy of your results every time you take inventory. It will be impossible to incorrectly identify a product when you scan its barcode. By getting this done right the first time, we spend less time trying to identify errors, leaving more time to analyze your results. This makes the process of generating your inventory reports much smoother.
Recipes Module Provides Expected vs Actual Inventory Data
With most inventory systems, you'll count every product in your bar and then value it to calculate your costs. This creates a lot of opportunities for human error to enter the process.
Bar-i's system creates recipes for every button on your POS system. This allows us to convert your sales report into a precise record of how many ounces of every product were sold. This is a technical task, and your Bar-i inventory specialist will take ownership of it.
The value of going through the recipe process is that it lets us know precisely to the ounce how much of each product should be left on-hand when we count inventory. For example, if we find a half bottle of Jameson missing after we do our count, we can confidently determine that it was due to inventory shrinkage. However, if we find 5 bottles of Jameson missing, it's a sign that an error was made during the counting process. Your inventory specialist will then double check our counts and recipes to determine where the error occurred.
The ability to compare expected vs. actual inventory isn't present unless you use a detailed system that identifies how many ounces of each product should have been poured based on your sales report. In addition, our inventory system makes these errors glaring. The software generates a different color in the field if there's a sufficient enough variance between what should have been on-hand and what is actually on-hand, making it easy for your specialist to identify places where an error occurred.
Variance Report Streamlines the Error Resolution Process
Bar-i understands that errors are an inevitable part of the process, and we've created an easy-to-use, client-friendly system to identify them. Your inventory expert will look at all potential errors and present them to your bar manager in an easily digestible format, called a variance report. This report makes any potential errors much easier to correct.
The variance report is unique to Bar-i's inventory system and isn't available on app-based systems.
Open Book/Staff Report Improves Transparency of the Process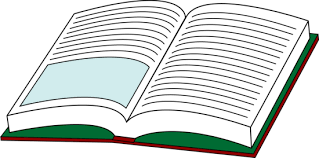 Bar-i follows an open book philosophy. We can always show you exactly how we're calculating the numbers so that you can be confident these calculations are correct, and you'll easily be able to understand why the numbers are the way they are.
The first step in getting your staff to use the data we provide is to get them to believe it's accurate, and our open book philosophy is an important way to improve the confidence and buy-in of your staff. Our reports show:
How much of a product was previously on-hand
What was delivered during the inventory period
How much was sold
How much of the product should've been left on-hand
What was actually counted
When variances exist, this level of detail enables you to verify and check our results. On the variance report, you'll see how much the numbers are off by for a particular product as well as every single recipe containing that product and every location the product was counted in your bar. This allows us to check to ensure these recipes are in fact correct and that there is a recipe for every drink containing the product. It will also make it easier to identify situations where there may have been additional bottles in a location that wasn't counted.
All of this transparency makes it easy for your staff to check our results. We then get everyone working together to make the results more effective. By encouraging your staff to audit our results, it eliminates a potential "us vs. them" dynamic where your staff doesn't believe the data is accurate.
Zone Counts Reduce the Likelihood of Counting Errors
Bar-i uses a zone count system to reduce the chances of counting errors. We map out your bar so that it's set up the same from count to count. We count each shelf systematically from left to right. After we've counted all the individual products on a specific shelf, the inventory software tells us how many total bottles are on that shelf. Then we go back and recount all of the bottles on the shelf (from right to left this time) to make sure that the total number of bottles matches the total generated by the software.
This zone count provides a robust system to ensure all counts are accurate at the time they're done. If the total number of bottles generated by the system is different from our total count, we know we need to recount that particular zone. We've found that our zone counts are most effective for uncovering counting errors in bottles of liquor and in kegs.
Invoices are Reconciled to the Dollar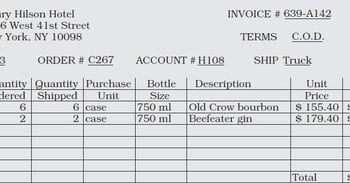 In other systems, you have to enter all deliveries manually. This often results in deliveries not being entered 100% of the time. With Bar-i's system, you check in your invoices at the time of delivery, scan them to the cloud and then we enter the invoices into the system for you. During this process, we reconcile every invoice to the dollar.
For example, when we see an invoice for 12 bottles of Jameson, we enter 12 into the system and the software automatically enters the price of a Jameson bottle. If the dollar value based on the number of bottles entered doesn't match the total dollar value on the invoice, it gets flagged by the system. By checking every invoice down to the dollar, it ensures the price and quantity entered into the system are both correct. This is just another layer of error checks to help avoid a bouncing liquor cost.
Day of the Week Schedules Streamlines the Inventory Process
The classic way of taking inventory is to perform the task on the first of the month. The problem with this method is that the first always falls on a different day, often forcing your manager to come in on a day off to take care of this task. When this happens, it won't be an ideal time to get your manager's best effort. After all, no one ever wants to come into work on their day off.
Bar-i offers a variety of options and if you only want to take inventory once a month, we recommend our Speed Count system for $50/month. But if you want to use inventory as a profitability tool, we will require that you do your inventory on a set day of the week (it can be every other week if you don't need to take inventory on a weekly basis).
By doing inventory on a set day of the week, it means things behave the same way every time you take inventory – there will always be a similar amount of inventory on-hand, it may occur right before the big keg delivery day, etc. It will also ensure that your inventory efforts fit in with your ordering schedules and manager schedules.
Creating a situation where everything is done the same way on the same day of the week each time you perform inventory streamlines the process, and it's a big reason why Bar-i is able to get such accurate results.
You also don't have to worry about the same day of the week schedule impacting the accuracy of your end-of-the-month accounting. With our end of month value projector, we can calculate the value of your inventory with a much higher level of accuracy than you can do in-house.
Reports are Updated to Eliminate Inaccuracies Caused by Errors
Whenever your staff notices an error in a report, we will reissue the report with the correct values. In other systems, reports often aren't reissued when the numbers were incorrect, and this makes it harder to trust the accuracy of every report. By reissuing the report with the correct numbers, we ensure you always have accurate data that you can trust.
Benchmarking Allows Us to Look for Trends and Inaccuracies in Your Data
Bar-i benchmarks your current results against your prior results by comparing your current inventory audit to the audits from previous weeks. It's not unusual to see performance vary slightly from period to period, but if you notice your draft beer yield drops by 10% in a week, it's usually for a specific reason. By looking at those variances from week to week, we can identify trends and inaccuracies.
We can also compare your results to what we typically see from similar clients. When your numbers are significantly off compared with these clients, it's a sign that we may need to double-check our work to identify and correct any potential errors.
If you'd like to learn more about how Bar-i can help improve your bar's operations and maximize profitability, please contact us today to schedule a free consultation. We serve clients nationwide from our offices in Denver, Colorado.