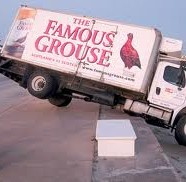 Liquor inventory: Delivery receiving best practice…..yawn. Once again I'm talking here about something which is pretty straightforward. Most of you are understandably wondering why I would dedicate a liquor inventory blog article to this subject. The reason is that many bars neglect this important step and end up costing themselves money in the process. Managing your liquor cost effectively is challenging so it makes sense to take care of the 'easy wins' so you don't undo your efforts in other areas. Allow me to try and convince you of the value of this by pointing out the types of problems that we often see when we start assisting our clients with their liquor inventory.
• Being overcharged: If you don't confirm every item on every invoice has actually been delivered, you will end up paying for product you didn't actually receive. 99 times out of 100 everything will be in order which makes it tempting to presume everything will always be there. Errors happen and from experience they are rarely in your favor.
• Getting lumped with product you don't want: This either happens when one product is subbed for another which is out of stock or when your distributor sends the latest 'hot new product' for you to try. In many cases the substitution or free product will be fine but it's important that someone at your bar acts as the gate keeper.
• Paying for product which used to be free: Frequently you will get a free trial bottle of some new product from one of your distributor. After a few freebies, those same bottles will start showing up at full price. Chances are the new product isn't very popular and doesn't add anything to your business. Unless you refuse that bottle, you'll end up with a $30 paperweight which will take up storage space until you find a way to get rid of it.
The way to avoid these problems is to agree a simple receiving procedure and follow it consistently. Here are a few suggestions:
• Make sure new deliveries are placed separately from existing liquor inventory so product deliveries can be checked against the invoice
• Ideally co-ordinate schedules so that deliveries arrive when someone is available to check them in. If this isn't possible make sure each delivery is checked as soon as possible so that returns are scheduled the same day
• Check each invoice line by line marking each line clearly to denote that the quantity, price and product have been checked and have the person doing the checking initial the invoice
• Ensure errors are clearly noted, marked on the invoice and communicated to your bookkeeper so that you never overpay for liquor inventory
• Do not allow product to be delivered which wasn't specifically ordered (unless it's free). Your liquor inventory selection is a strategic decision which you, not your distributor, should be in charge of. /
Types of Liquor Inventory Systems
Video - Liquor Inventory Systems
Related resources:
Liquor inventory and "mise en place"