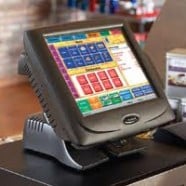 Since the price of every single drink poured affects your liquor cost so it makes sense to think carefully about the price of every single drink you serve. This article focuses on how setting up your POS buttons in a smart way will increase accountability and ensure EVERY drink is priced and portioned correctly. Once you start thinking about this in detail you might be surprised how much room for improvement there is in the setup of your POS. You'll also be pleasantly surprised about how much more profitable your bar can be when you get it right.
The typical situation: At most bars, one button often is used to ring in a number of different drinks. An example which applies to many bars would be a pressing a 'rocks' modifier button. This could be used to indicate Well Vodka 'on the rocks' or Grey Goose 'on the rocks'. The problem with this is twofold: A rocks pour is typically an extra ounce and it makes no sense to charge the same for an extra ounce of two different products given they cost different amounts. The second problem is that the button push indicates that an extra ounce of liquor was poured but it is unclear which product. This significantly reduces your ability to track the performance of individual products and therefore identify problems. At the more extreme end is a situation where bartenders press "$4 Well" and "$6 Call". When your POS is set up correctly, any drink can be rung in with two button presses and when it's organized clearly, that'll speed up your bartenders.
The ideal situation: In a perfect world (the place we're making your bar) every different drink would have its own specific button. Taking the above as an example, we would add a specific "Rocks" screen to your POS. This screen should have a button for any product that often poured in a rocks glass. If there are too many products to fit on one page, it's best to put the popular products on page one and then list others alphabetically afterwards. Adding this screen yields two advantages: It ensures each rocks pour is charged appropriately and it allows you to monitor the performance of every product (the key to a low liquor cost).
How to put "One Drink, One Button" into practice:
1.Take stock of your glassware and think about how every drink is poured. What glass does it go in? How full do we make it? How far from the top of the glass is the 'up' martini pour? What's the size of your rocks pour? What size do you pour After Dinner drinks (Port, Cognac, Grappa etc.) or Scotch? 2.It's important to create a clear consensus on the 'correct' way to pour each drink. Every drink should have a recipe. Drinks without recipes will be made differently by different staff members. This means the customer experience isn't consistent and also makes it hard to determine the appropriate price for a drink. 3.Print out a product mix report from your POS for the last 3 months 4.Identify the all the occasions when your staff press a POS button, and more than one product or quantity could be poured. Common examples include martinis, doubles, grouped drinks (like $6 call), drinks served "on the rocks" with the use of a modifier. Generally speaking modifiers should relate to the appearance or style of the drink (with or without salt, with glass etc). If you're indicating how to actually 'pour' the drink the drink should have its own button. 5.Involve your bar-staff in the discussion. Their hands on experience and ideas should be included. 6.Make the necessary updates to your POS. This will mean adding new screens (e.g. a martini screen) and new buttons. Make enough groupings so that staff doesn't have to cycle through multiple screens to find the correct drink (if necessary split a category into A to L and M to Z). Remember that the same drink could be made many ways (e.g. A gimlet with vodka or gin, a cosmo with regular vodka or Absolut Citron or Grey Goose Citron). 7.Make sure your staff are aware of the new protocols and put them into practice