While every bar inventory system offers a unique service, it can often be difficult to differentiate between some of the features of each product. Bar-i's Speed Count Pro provides you with the ability to precisely compare what was used vs. what was sold in order to determine how much of every product is missing. You can then use this information to make the changes necessary to reduce this shrinkage and improve your profitability.

One of the other leading bar inventory providers is Bevinco/Sculpture Hospitality. They started doing inventory back in the 1980s and were one of the pioneers in using software to perform inventory audits. They've had a huge impact on the bar inventory industry and provide an excellent service.

Bevinco/Sculpture Hospitality's full service inventory audits will deliver actionable information that in many ways is comparable to what can be achieved with Bar-i's Speed Count Pro, but there are also some important differences in these services. If you're trying to choose between these two options, it's important to understand the nuanced ways in which each product goes about the process of managing your bar's inventory efforts.
Similarities between Speed Count Pro and Bevinco/Sculpture Hospitality's Full Service System
There are several important similarities in the ways that these products approach the bar inventory process.
Weight-Based Inventory Systems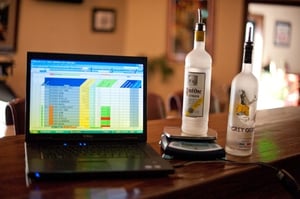 Both Speed Count Pro and Bevinco/Sculpture Hospitality use weight-based systems to measure the amount of alcohol in the bottles behind your bar. These systems know the tare weights of the bottles and adjust for the density in order to precisely calculate how much product is in a bottle.
At Bar-i, we believe using weight-based measuring systems provide you with the most effective and accurate way to measure the amount of product in each bottle. This method offers the following important benefits:
Counting is completed quickly (each bottle can be weighed in under 2 seconds)
You receive a much more objective measurement than can be achieved using methods such as tenthing
Measurements are extremely precise (Bar-i's scales are accurate to the hundredth of an ounce)
Full Service Setup
Bar-i and Bevinco/Sculpture Hospitality will both come to your bar and set up our systems for you. There are several reasons why it's beneficial to have your inventory system set up for you:
Sets you up for success – It's important to make sure the system is set up and running properly so that you will achieve the most accurate results possible.
Creates a better user experience – At Bar-i, we believe that it's important to set up our inventory system in a manner that provides a pleasant experience for you and your staff so that you're ready to hit the ground running.

If your staff has to muddle through the complicated setup process, they could potentially become frustrated before ever running an inventory audit. This isn't an ideal way to get your staff fired up about diving into the nuances of their new system and learning how to get the most out of the features it offers.
Avoids the pitfalls associated with a steep learning curve – These inventory systems are highly complex, and they're not easy to set up. Bar-i has done this setup hundreds of times, and we've already gone through the steep learning curve associated with setting it up properly. Our team will do a better job at this setup process than someone how has never tried to set up the system before.
Keep in mind that while we encourage you to have us set up the Speed Count Pro system for you, we are sensitive to the budget constraints of our clients. In order to address this concern, we offer our clients the option to do a self-setup which will save you approximately $2,000.
Results are Verified Down to the Serving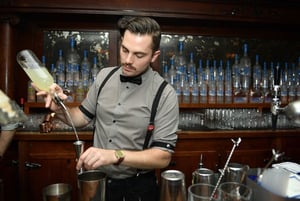 One of the biggest challenges associated with performing bar inventory is that products are purchased in bottles, kegs and cases, but they are sold to customers in shots, servings and bottles. This difference in units of measurement can make it challenging to identify precisely what has been used.
You need an inventory system that is precise enough to match your real life situation and calculate usage by the serving. Bar-i and Bevinco/Sculpture Hospitality have created systems that compare how many servings were sold vs. poured for every product at your bar. Once these numbers have been calculated, an independent inventory expert looks at the data to ensure it's accurate.
DIY inventory systems require you to check for errors in order to verify that the data is accurate. This can be time-consuming and challenging to accomplish, and these systems often lack the accuracy to provide results down to the serving. By verifying your results to this level of precision, Bar-i and Bevinco/Sculpture Hospitality are making sure you can trust the data you achieve from your inventory efforts.
Differences between Speed Count Pro and Bevinco/Sculpture Hospitality Systems
The similarities discussed above are essentially the reasons why these two inventory systems provide you with a superior service compared with many other options available. However, there are some important differences that create a unique user experience for each system.
Counting the Bottles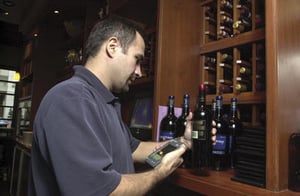 Speed Count Pro is a hybrid self-count system where some elements of the process are performed by Bar-i and others are performed by your staff. As part of this model, the person responsible for counting inventory works at your bar. Your manager or someone else on your staff will perform these counts every inventory period.
Bevinco/Sculpture Hospitality offers a true full service system. In this situation, someone from Bevinco/Sculpture Hospitality will come to your bar every inventory period to count the amount of product you have on-hand.
In both options, there is an independent bar inventory expert who will crunch the numbers for you, but you have to choose whether you want to count inventory yourself (Speed Count Pro) or pay to have the independent inventory expert come to your bar to count for you (Bevinco/Sculpture Hospitality).
At Bar-i, we feel that having an in-house counter is more effective for several reasons:
Your staff is more familiar with your inventory than we are – Your staff knows all the hiding spots for extra cases that don't fit in your storeroom and are more likely to check these places when performing inventory counts. They will also know if certain bottles got moved during the week, or any other important detail that may impact the accuracy of your count. Using a counter who is familiar with your inventory makes more sense than having someone come in and count who isn't aware of these little nuances associated with how you run your business.
Reduces the cost of the inventory service – You want to pay a third party service provider for things you can't do yourself or that someone else can do better than your staff can do it. The analysis side of the inventory process can be done much more effectively by an independent inventory expert and is therefore worth paying for, but counting bottles and running sales reports can be done just as effectively by your staff as it can by us. Therefore, we see this as an easy opportunity to save you some money without sacrificing the ability to achieve the best possible results from your efforts.
Makes your staff more engaged in the process – When everything is done for you, your manager is less engaged in the process than they would be if someone on your staff was performing the inventory counts. The benefit of having your manager or another staff member be the counter is that it will make them more engaged in the entire process, and they're more likely to act on the data they receive from our reports.
Cost
One important differentiator between these two systems is that Speed Count Pro incorporates some aspects of a DIY system (your staff performs inventory counts) while Bevinco/Sculpture Hospitality is providing a true full service system. One of the benefits of using a hybrid system relates to the cost. Speed Count Pro is about half the price of Bevinco/Sculpture Hospitality's full service audit, and you receive the same detailed reports and recommendations for how to improve your bar's performance.
Collaborative Error Resolution
The potential for errors is significant when you have a third party counting your inventory because these people are less familiar with your systems and processes than an in-house staff member will be. Since your staff isn't involved in the counting process, it becomes the sole responsibility of the Bevinco/Sculpture Hospitality staff member to find and resolve these errors. It can often be much more challenging to resolve these errors without input from your staff.
Bar-i has a collaborative error resolution system built into the process that allows us to work with your manager to identify any errors before the final inventory report is generated. During a Bar-i audit, we'll generate a variance report which identifies places where an error may potentially have occurred. Your manager can then check these specific issues to determine whether or not there was in fact an error. This collaborative process makes the resolution of errors much more efficient.
Spot Checker Tool
There's one problem with having an inventory cycle that goes for 1-2 weeks. While you can identify what's missing, you can't identify who caused the product to go missing.
When you know what's missing, you generally know why it's missing. For example, if you're missing a significant amount of Fireball, it's most likely due to one of the following reasons:
Shots are being given away for free
Shots are being served in larger rocks glasses where they can be poured heavy instead of serving them in a shot glass where the portion is more exact
However, knowing the reason doesn't necessarily tell you who is giving away these shots our pouring them in the wrong sized glass. If you see the same product is consistently missing every week, you'll want to identify who is causing this product to go missing.
With a full service system, you have to request that a Bevinco/Sculpture Hospitality staff member make a special trip to your bar to perform a spot check. This can often be challenging due to scheduling complications.
Bar-i's spot checker tool is available to all Speed Count Pro clients for free, and you can use this tool without our assistance. Since your managers are used to counting inventory with our software, they already have the skill set to use the software properly, and they can easily use the spot checker tool during any shift of the week to determine exactly when a specific product is going missing. As an additional benefit, you won't have to pay extra for an independent inventory expert to make a special trip to your bar to perform this spot check.
Keep in mind that this tool is used to spot check specific products which are consistently underperforming. You wouldn't use it on products that aren't missing. By taking advantage of our spot checker tool, you can figure out which shifts specific products are going missing, which will ultimately allow you to identify which employees to address the issue with.
Ownership of Accuracy
Bar-i owns the accuracy of your inventory results, but your manager is heavily involved in the process since they perform the counts, provide us with invoices and collaborate with us on resolving errors. This collaborative relationship puts some ownership of the process back on your manager, and we've found that this co-ownership tends to achieve more accurate results than if there was no shared ownership of this element of the process.
When you work with Bevinco/Sculpture Hospitality, the sole responsibility for accuracy falls on their staff member, and it's significantly harder to get the most accurate results possible when there isn't a collaborative process between the inventory provider and bar staff.
POS Updating
Bar-i is very involved in the process of updating your POS system so that it is organized in the most optimal manner. We measure how well your POS system is set up by looking at the percentage of items rung in as "unknown liquor" or with generic modifiers such as "rocks" or "double." This allows us to objectively measure the effectiveness of your POS setup, and then we'll provide complimentary advice on how to reprogram your POS system in a way that helps you to better track usage and maximize profits.
These Details Matter
If you're looking to achieve extremely accurate inventory data that will help you improve your bar's performance and maximize profits, you can't go wrong with either of these systems. However, there are important differences in the ways each system functions, and you'll need to evaluate the pros and cons of these differences in order to determine the right option for your bar.
If you'd like to learn more about how Bar-i's Speed Count Pro can help you streamline your bar's operations and maximize profits, please contact us today to schedule a free consultation. We serve bars nationwide from our offices in Denver, Colorado.