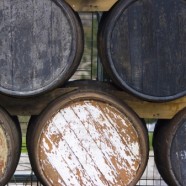 Liquor inventory systems: Draft beer specific inventory systems
Liquor inventory systems are an essential part of the bar business these days. I identified the main categories of liquor inventory systems in my recent post (Liquor inventory systems: From free to full service) but omitted to mention draft specific liquor inventory systems. This post therefore discusses draft-beer-aimed inventory systems.
The industry standard: Monthly in-house liquor inventory
Thousands of bars in the US still do their liquor inventory once a month. The typical method is to record beer, wine and liquor inventory levels using a clipboard and then enter the results into excel so that the monthly liquor cost can be calculated. The problem with this method once again is that liquor cost doesn't provide bar managers and owners with detail about the performance of specific products so that problems can be addressed. If one particular draft beer line is foaming and needs to be fixed, liquor cost won't identify this. If bartenders are giving away free pints of draft beer, liquor cost won't identify this. Or if your liquor distributor makes a billing error and charges you for a keg of draft beer you never received liquor cost won't identify this. The reliance of the bar industry on liquor cost is one of the primary reasons why 20% liquor inventory shrinkage is the industry standard! The good news is that there are now a variety of liquor inventory systems which will help you make more money from addressing this issue at your bar. A handful of inventory systems even specifically address the issue of inventory shrinkage of draft beer which is the product category which typically suffers worst from this problem.
Option 1: Weekly liquor inventory
More and more bars do their liquor inventory on a weekly basis. This is an improvement on monthly inventory due to the increased frequency of data it provides. The problem with weekly liquor inventory to calculate liquor cost is that it doesn't address the fundamental issue of measuring performance with liquor cost. To be upfront I should say I own a liquor inventory business and I therefore hope you buy our liquor inventory system. Regardless of whether you choose our liquor inventory system or a competing offering, I can't emphasize enough that using liquor cost to run your bar is a very costly mistake to make. Every bar experiences some level of inventory shrinkage, and liquor cost is not an effective tool to manage it.
Option 2: Third party liquor inventory solutions
Please read this article for a full breakdown of the major types of systems: Liquor inventory systems: from free to full service.
Option 3: Draft specific inventory systems
"Why would I consider spending money on a draft specific inventory system when there are solutions which address not only my draft beer but my liquor and wine inventory too?", I hear you ask. The reason is simple: If you do sufficient volume in draft beer, having a draft specific system will yield a number of additional benefits which means the system more than pays for itself. Specifically I'm talking about draft inventory systems which use flowmeters to track the use of draft beer very accurately, line by line, in real time. While the hands down best way to inventory bottles of liquor and wine is by weight, the undoubted best way to audit your draft beer products is by using a flowmeter. Draft beer inventory systems based on flowmeters work as follows: a technician will cut the draft beer lines in your walk in beer cooler and insert a flowmeter in each line. When these flowmeters are connected to a centralized brain, users can login into a web-based portal and view much more detailed product usage information than is typically available in bars. There are a few advantages to this approach: since usage is being tracked in real time, when combined with sales information from a restaurant point-of-sale system, you can easily identify if draft beer is being poured without being rung up. Not only can you identify missing beer but you can identify specific shifts when beer is missing. Identify the shift, identify the problem! Other benefits include monitoring the temperature that your draft beer is being served at and even ensuring that line cleaning is being completed correctly (you'd be amazed how frequently line cleaners save themselves some work by cutting corners or even 'forgetting' to clean draft beer lines altogether).
For our larger volume clients we often recommend upgrading to a draft specific inventory system. While there are a number of viable options for draft inventory systems, the best system we've seen on the market so far is the i-draft system from Brulines. This UK based company has more than 22,000 installations in the UK and has recently begun offering it's services in the US. The reasons why I prefer the i-draft system over competing draft inventory systems are as follows:
• Quality of user interface: The overall look, feel and functionality of i-draft's web portal is better than other options. This creates a better user experience which means you and your managers will use the system more often and get more out of using it • Handling of keg cleaning: Other systems are clumsy at best in the way they handle keg cleaning: Typically you need to go into the system and manually indicate when line cleaning was performed. This means the long pours associated with cleaning the lines don't get counted towards beer usage. The i-draft system handles this automatically so there's no possibility to forget or make mistakes • Automated alerts: You can setup the system so that i-draft will automatically send you email or text alerts when beer is not served at the correct temperature or when line cleaning hasn't been performed. We all know how crazy bars can be so anything that happens automatically is a big plus in our book!
For full information about the system and contact information visit http://www.idraught.com/ (This is the UK version but the US site is on the way and promises such improvements as spelling 'draft' in a more familiar way)
Full disclosure: Bar-i has an informal relationship with i-draft whereby we provide referrals to each other. These referrals are based purely on the needs of our clients and we do not accept payment for these referrals.
How to Pour a Perfect Draft
Video - How to Pour a Perfect Draft
Related blog articles:
Liquor inventory systems: From free to full service