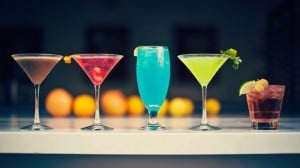 As a liquor inventory service provider and consultant to bars and restaurants nationwide, one of our jobs at Bar-i is to stay on top of the latest trends in the industry. One inescapable trend we've been noticing is a rise in craft cocktails.
"Craft cocktail" is a great buzz word in the bar industry, but what does it really mean? We would define a craft cocktail as "a beverage better than its constituents." In other words, it is a drink where the whole is greater than the sum of its parts.
When you make a simple mixed drink such as a Jack and Coke, there's nothing clever and distinctive about it. You'll get virtually the same drink from just about every bar. But with a craft cocktail, you are creating value that isn't achieved by a typical mixed drink.
Why Should I Serve Craft Cocktails at My Bar?
There are several important benefits to including craft cocktails on your bar menu:
• Better taste – By combining ingredients together in clever ways, you can create a drink that tastes better than what is achieved by a simple mixed drink. This should appeal to your customers and give them a reason to keep coming back to your bar.
• Distinctive offering – It's unlikely that other bars will develop the exact same craft cocktails as you do. This gives you something to offer your customers that they can't find anywhere else. One other way you can increase the distinctive feel of your craft cocktails is by giving them clever names.
• Higher price point – You can charge much more for good craft cocktails than you can for a typical mixed drink. Most bars charge anywhere between $10-15 for the drinks on their craft cocktail menu, and some high end bars will charge upwards of $20. This higher price point enables you to increase your profit margin.
• Ability to add value – The goal with craft cocktails is to design a drink that tastes great, providing you with another way to add value for your customers.
One important point to keep in mind when designing craft cocktails is that you don't necessarily need to use the most expensive liquors. When you get creative with the ingredients you add to the liquor, you can easily develop a great tasting drink using more value-oriented liquors. This will allow you to maximize the profitability of these signature drinks.
Challenges Associated with Serving Craft Cocktails
While craft cocktails provide great value to your customers and serve as an effective way to distinguish your bar from your competitors, they also pose certain challenges:
• Pricing decisions are more complicated – It is much more challenging to make strategic pricing decisions for craft cocktails than for simple mixed drinks. You must account for a variety of factors when calculating the price, including a greater number of ingredients (which often include multiple types of liquor), the presentation of the drink, and the ability to cultivate a sense of uniqueness or exclusivity.
• Greater opportunity for inconsistency – Craft cocktails incorporate multiple ingredients. Often there is more than one type of liquor and several mixers to enhance the flavor. When you are making drinks with 4 or more ingredients, varying the amount of one of these ingredients slightly may have a significant impact on the taste of the drink. As a result, it is important for your bartenders to be very consistent with their measurements for all ingredients in the cocktail, not just the alcohol used.
Craft Cocktails Make an Effective Bar Inventory System even more Important
If you are going to serve craft cocktails at your bar, it is crucial that you use a sophisticated bar inventory system that helps you improve the consistency and monitor the performance of these drinks.
As mentioned above, consistency is crucial to ensuring you provide your customers with a great tasting drink every time they order it. But consistency will also have a significant impact on your profits. Since these drinks often contain multiple types of liquor, being inconsistent with liquor pours can reduce your profit margin considerably.
Using a basic bar inventory system that only allows you to calculate liquor cost will let you down. Liquor cost is too simple of a metric to help you understand how well a complex drink like a craft cocktail is performing. You need to use a bar inventory system that precisely compares what is rung in with what is poured.
How Bar-i Can Help You Maximize the Effectiveness and Profitability of Your Craft Cocktails
Bar-i's bar inventory system is ideally suited to help you make the most out of your craft cocktail menu. It offers the following benefits:
• Bar-i will write specific drink recipes for every button on your POS system.
• We can add an infinite number of ingredients to these recipes and specify the precise quantity used for each drink. As a result, Bar-i's system can precisely account for the increased complexity of your craft cocktails.
• You will receive a detailed report comparing precisely what was rung in with what was poured. This allows us to verify that drinks are being made according to the recipes so that they taste right and are priced correctly.
• If you pre-batch ingredients for craft cocktails (a great option when dealing with high volume drinks), it can create challenges in taking bar inventory. Bar-i's system can precisely calculate what is in those containers so that we can still provide the accountability you need to maximize profitability.
You will receive one additional benefit to using our bar inventory system. The discipline associated with providing us with precise recipes will also help your bar develop the operational procedures required to achieve greater consistency. It will allow you to communicate a clear recipe to your staff by providing them with cheat sheets that will ensure all of your craft cocktails are made correctly.
Please contact Bar-i today to learn how our bar inventory system can help you maximize profits and improve your operations. We provide services to bars nationwide from our offices in Denver, Colorado.