Bars and restaurants are low margin businesses with complex vendor relationships. The average bar makes less than 10 cents on the dollar for every sale. These low margins force bars and restaurants to get creative in order to become profitable.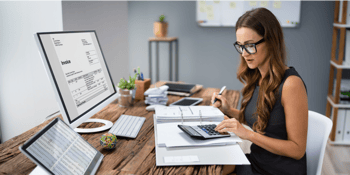 Compared to businesses in other industries, bars and restaurants typically have significantly more vendors. It's common to work with 5-10 vendors for alcohol alone. When you include vendors for food, office supplies and cleaning supplies, this number often exceeds 30. As a result, it's common for most restaurants to sort through a minimum of 10 invoices per week and in many instances, the number will be much higher than this.
This deluge of invoices creates a problem for many businesses – your team will spend a great deal of time sorting through invoices and completing paperwork. Ultimately, this raises costs unnecessarily. Payment automation technology creates an opportunity to streamline this process and cut your labor costs in an area that is commonly a hassle for many bars and restaurants.
How Does Invoice Processing and Payment Automation Technology Work?
The old school method for processing and paying invoices is very inefficient. You'll receive a paper invoice with each delivery. Your bookkeeper must enter the details of each paper invoice into your accounting software and code them to separate each item into various different accounts payable. Once this is done, your bookkeeper must cut checks to each vendor for payment due. This is a very manual, time-consuming process.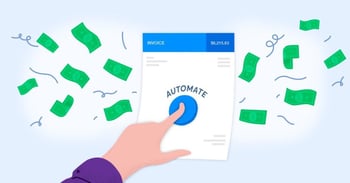 Payment automation technology uses software to digitize, pay and code all your paper invoices, which streamlines the process and eliminates a labor-intensive task for your bookkeeper. There are several different ways in which invoices can be digitized:
Scan invoices into your accounting software
Receive email invoices
Direct integration/EDI feeds
Some of the more advanced payment automation systems, such as Fintech, have direct integration to vendors. This is accomplished by pulling the data directly from the vendor's database through an EDI feed. This represents the most automated process and reduces the risk of errors.
However, most systems use some combination of software/OCR (optical character recognition) technology in conjunction with human verification. With OCR technology, software will read the text on a piece of paper and turn it into a data file. By adding a layer of human verification to the use of OCR software, these systems are able to become extremely accurate. In our experience, we've found that Zaru provides the highest levels of accuracy of any payment automation system that doesn't use EDI feeds.
Once your invoices have been digitized, your team will need to approve them. This is the one manual step in the payment automation process, but it is completed quickly. You simply go through a dashboard and click a button to approve each item. This important step ensures you're not being charged for items you didn't receive.
Finally, your payment method is automated using bank EFT transfers. This is much faster and more convenient than having to manually cut checks to each vendor.
Payment Automation Software Provides a Wide Range of Benefits
If you're spending a significant amount of your manager's or bookkeeper's time on receiving, coding, approving and paying your invoices, payment automation technology will be extremely beneficial to your bar or restaurant:
Invoices are more searchable – Digitizing your invoices makes it much easier to quickly and efficiently look up past invoices.


Automatically pay all invoices on time – You'll have one unified payment system that eliminates the need to write and mail checks.


Identify price increases and inconsistencies – Often, you'll have a contracted rate with your vendor for specific products. If the price of these products starts fluctuating from week to week or month to month, your payment automation system will flag these inconsistencies so that you can follow up with the vendor and avoid overpaying. For a small margin business, this can be an important way to eliminate vendor errors which eat into your profits.


Automatically assign line by line purchase items to correct cost accounts – It's common to have beer, liquor and wine items all on the same invoice. This requires someone to code each of those items individually. With payment automation software, each item is assigned to a cost account once and then every time that item shows up on future invoices, it will automatically be coded to the right place.

This ability to automatically summarize and organize purchase items is particularly beneficial for establishments with quickly rotating inventory because this coding can significantly slow down your process when you are regularly cycling through new products.


Integration to recipe costing software – If the price of a specific ingredient for your recipes increases, it will automatically be addressed in your recipe costing software. This will let you know that you either need to substitute a less expensive ingredient or raise the price of your dishes which use that ingredient to reflect this cost increase.


Integration to inventory management software – Bar-i's inventory system compares what is sold vs. poured for every item you carry to identify how much of each product is missing. To figure out what is poured, we need to know what was purchased. Having accurate information about what was delivered is crucial for us to complete this process properly. Integrating with your payment automation software eliminates the need for your staff to manually scan invoices just for our team to be able to do our job.
Leading Payment Automation Solutions
Paying your invoices manually is likely costing your business a significant amount of money. Automating this process can save you a great deal of time and money, while unlocking important insights and data which can be used with the other technology systems you implement, such as your inventory software.
If you're considering adopting payment automation software at your bar or restaurant, Bar-i recommends one of the following solutions:
We've found these systems to be highly accurate and user-friendly. As an added benefit, Bar-i integrates with Fintech, Plate IQ and Zaru. If you already use one of these systems, you can implement Bar-i's inventory system and seamlessly integrate your invoice data into our software at no additional cost. This will create a smoother process and save you time scanning invoices, making the inventory process go even faster. We also currently have a pending integration with XtraChef, so you will be able to unlock similar benefits with this system in the near future.
To find out how Bar-i can help you streamline your processes and increase your profits, please schedule a consultation today. We serve bars and restaurants nationwide from our offices in Denver, Colorado.