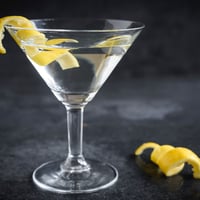 In some countries such as the United Kingdom, alcohol pour sizes are regulated by the government. However, in the United States, all bars are free to make their own decisions regarding portion sizes. This begs the question, "How much should we be serving in each drink?"
Certain drinks commonly have standard pour sizes. These include:
Rocks – 2 ounces
Martinis – 3 ounces (there may be some variation from bar to bar)
Doubles – twice your standard pour size
The important place to make decisions on portion sizes comes with your shots and cocktails.
Determining Pour Sizes for Shots and Cocktails
Pour sizes for cocktails usually fall between 1 oz. and 2 oz.:
1 oz. – This pour size is commonly used at Vegas casinos, corporate settings and lower end venues where customers are price-sensitive and are more concerned with the cost than the portion size.


1.25 oz. – This is the second most common size for cocktails. It's often used at national chains and with some independent establishments. The argument behind a 1.25 oz. cocktail size is that if you serve 1/6 less alcohol (compared to a 1.5 oz. cocktail), you can price your drinks a little more aggressively. This may appeal to price-sensitive customers.


1.5 oz. – This is the most common portion size across bars.


2 oz. – You may sometimes find 2 oz. cocktails at high-end venues, members clubs and other establishments that cater to a wealthy clientele. Often, these people are more concerned with a good quality drink than the price. If you're going to use a 2 oz. pour size, it's important that you price your drinks appropriately to reflect the additional alcohol being used.
Shots often come in 1 oz., 1.25 oz. and 1.5 oz. pour sizes. In our experience, all of these options seem to be equally popular.
That being said, we strongly recommend using a 1 oz. pour for shots for the following reasons:
Responsible service – When people order shots, it is usually in addition to other drinks that they are consuming. This is great because it increases your ticket averages. By serving a smaller shot size, it will allow your customers to still be able to consume several beers or cocktails in addition to their shots without getting too wasted.


Strategic pricing – If your cocktails are 1.5 oz. and your shots are 1 oz., you can price your shots more aggressively since they only contain 2/3 as much alcohol as the cocktail. This will allow your customers to perceive the shot as a value purchase, which may increase sales.

In this scenario, you have two options regarding your pricing. If you charge $6 for a 1.5 oz. Jack and Coke, you can charge $4 for a 1 oz. shot of Jack Daniels and still maintain the same liquor cost. You can also charge $5 for the 1 oz. shot and make a little extra profit while still providing a lower cost option than the full cocktail.


Greater control over staff accountability – Having shot and cocktail sizes that are significantly different will require you to price them differently, and that is very beneficial. If you have a 1.5 oz. cocktail and a 1.25 oz. shot, you may be tempted to price them the same in order to improve your profit margin on shots. This sets up a situation where bartenders may be tempted to ring up all shots as full-sized cocktails since the price is the same. If this happens, your POS system will be registering an extra .25 oz. of alcohol for every shot pour, allowing your bartender to give away a free shot and pocket the money on every sixth shot. Even if your bartenders don't give away the free shot, being sloppy when ringing drinks into your POS will make it much harder to accurately track your usage.

By using a 1 oz. pour for shots, you will be forced to price them differently than a 1.5 oz. cocktail. As a result, your bartenders must ring shots in properly every time they're poured. This improves staff accountability and allows you to track inventory more effectively, which is crucial if your goal is to track level 3 inventory and use your efforts to improve profits.
Communication, Training and Tracking are Crucial Regardless of Your Portion Size
The actual pour size you choose for shots should be well thought out based on your business model and the needs of your customers. It's important that you clearly communicate this decision to your staff so all bartenders know the correct portion sizes for all drinks being served. You should then train your staff by doing pouring practice to ensure all bartenders are able to pour the proper size consistently.
Finally, you need to confirm that your staff is pouring the proper size on the back end. Using a sophisticated bar inventory system that tracks usage down to the serving will allow you to precisely compare how many ounces were poured vs. sold. You can use this data to identify products that are underperforming, and you can take the necessary steps to correct the issue. This will ensure your bar maximizes profits on shot sales.
We encourage you to download our free liquor cost calculator. This tool will help you price out your shots more effectively.
If you'd like to learn more about how Bar-i can streamline your operations and help you maximize profits, please contact us today to schedule a free consultation. We serve bars and restaurants nationwide from our offices in Denver, Colorado.