How much are you getting out of your bar inventory efforts? Are you simply figuring out what you need to order and calculating your liquor cost, or are you leveraging your inventory data to drive profits? For most bars, their inventory efforts rarely go beyond the first two levels (ordering and calculating liquor cost), and this creates a serious missed opportunity.
It's easy to count bottles as part of your inventory process, but turning those counts into meaningful insights is more complicated. Most bars don't do a great job at making their counting count by diving into level 3 inventory – comparing what was poured vs sold at your bar to determine how much of every product is missing each cycle. Unfortunately, bars that simply perform the first two levels of inventory typically experience 15% inventory shrinkage, which equates to a 3% increase in your liquor cost.
To achieve the benefits of level 3 inventory, you need to integrate your sales for every product down to the ounce in order to precisely compare your sales to your usage. Bar-i's liquor inventory system offers robust POS integration abilities, allowing you to tap into the data provided by level 3 inventory in order to use your inventory efforts to improve your profits.
Bar-i's Toast POS Integration Can Elevate Your Inventory Results

Bar-i's inventory system integrates with over 40 of the most commonly used POS systems in the restaurant industry, including Toast. In recent years, Toast has become the top selling POS system on the market by far due to a wide range of innovative features that allow you to maximize the value of your POS system.
Many inventory systems don't provide an effective way to make use of the granular sales data in your POS system, and this limits the effectiveness of your inventory efforts. To maximize the results of your inventory audits, you need to compare your sales and usage of each product to determine how much is missing (level 3 inventory). When you take this additional step, your bar inventory efforts become an effective tool to make more money.
Bar-i's Pro System makes it easy to elevate your inventory results. We take the data that's already in your Toast POS system and turn it into meaningful insights that allow you to run your business better, reduce your inventory shrinkage, lower your liquor cost and increase your profits.
How Does the Bar-i Toast POS Integration Work?
Bar-i's liquor inventory system calculates your usage of every product down to the ounce using two separate count values (the starting amount and ending amount for each inventory cycle). In addition, purchases and deliveries are factored in to ensure all bottles are accurately accounted for. Once we know exactly what was poured for each product, we compare that to what was sold during the inventory cycle.
But how are we able to know exactly what was sold for each product? This is where integrating your POS sales data plays a critical role in unlocking the ability to effectively perform level 3 inventory. Here's how the Toast POS integration process works:
Run a Sales Report
First, we run an itemized sales report from Toast for the matching period between the starting and ending counts. If you do a weekly count, we run a 7-day sales report from Toast. If you count bi-weekly, we'll run a 14-day sales report.
Toast's detailed sales report provides a record of exactly which buttons were pressed, and how many times they were pressed. In the image below, you can see that the 5 buttons displayed were all pressed 4 times.

Write Recipes for Each Button
Simple cocktails such as Jack and Coke or Grey Goose and tonic make it easy to calculate how many ounces of a particular product were sold. However, this process becomes more complicated when you have a button for a complex cocktail such as a Mai Tai, which contains several different liquors in varying quantities.
In order to ensure the exact amount of each liquor in the cocktail is accounted for in your sales, we write a specific recipe for each button. When your Toast POS data is integrated into our system, the software will automatically know the precise quantity of each liquor used in the drink. This ensures these amounts are accurately listed in your sales, making it easy to compare your sales to your usage.
The image below shows a Bar-i recipe report for a variety of Hennessey drinks. A full 750 ml bottle of Hennessey equates to a 25.4 oz. recipe. The other Hennessey buttons on this report refer to single serving drinks, which is why these recipes list the quantity at 1.5 oz.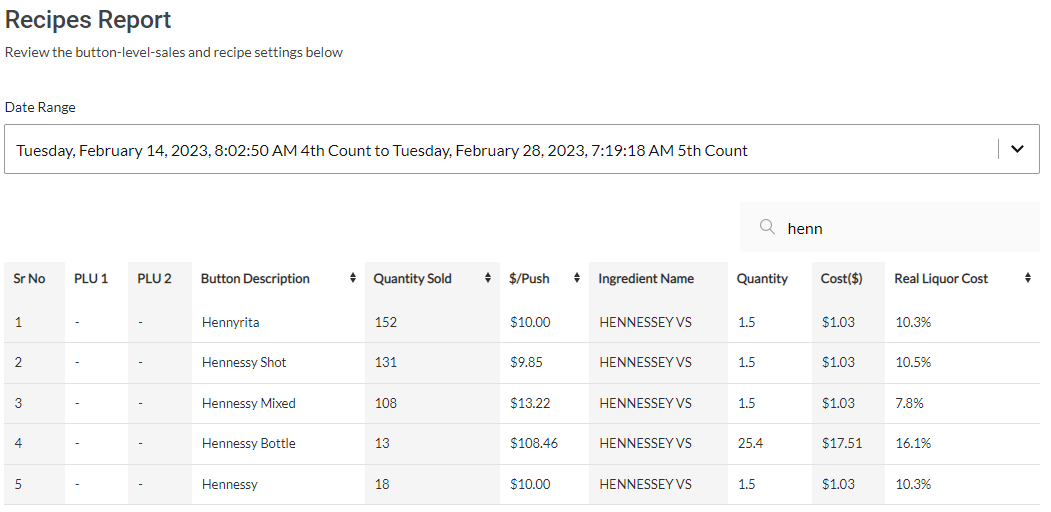 Eliminate Extraneous Button Rings
Our system allows you to designate specific POS buttons as "Do Nothing." Using this feature keeps extraneous button rings that don't impact our inventory audit out of the system. You'd use the "Do Nothing" function to ignore buttons associated with food items.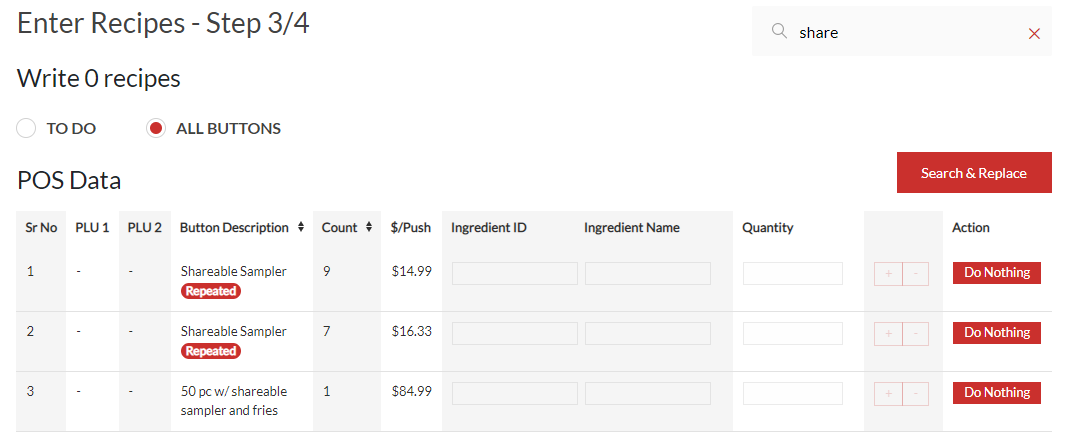 Accounting for Unknown Rings
For your POS integration to deliver highly granular sales data that allows our inventory system to precisely track the quantity sold for every product, each drink needs to have its own button. This allows the recipe writing process to function at optimal effectiveness and give you the confidence that your inventory data is truly accurate.
Reprogramming your POS system to ensure there is a unique button for every drink you pour is a time consuming process. Putting in this reprogramming work is well worth the effort since it will help you maximize the ability to leverage your inventory efforts to improve profits. But it's understandable that it may take a little time before you're able to accomplish this task, and you should still be able to reap the benefits of level 3 inventory before you're able to complete your POS reprogramming. That's why our system has a process for accounting for "unknown rings" in your POS.
The example in the image below shows a bucket of beer being rung in. It's considered an "unknown ring" because at this bar, a bucket of beer can include any of 5 or 6 different beers, making it hard to track exactly what was sold when this button was pressed.

Bar-i's Approach to Inventory Will Help You Improve the Quality of Your Results Over Time
The unknown ring issue highlights the key components of how the Bar-i approach can help you refine your inventory process to improve the accuracy of your data. We solve problems like this by providing you with extra support when you start using our system to ensure you set it up correctly and are able to improve your performance. This involves a multi-tiered process that sets you up for greater success over time.
We Handle Your POS Data as Is for the Moment
By building an "unknown ring" category in our software, we're able to create an imaginary product, allowing us to still account for these bottle sales even if we don't know which specific product was served. While this isn't ideal, it's much better than having all of those bottles identified as "missing product" in your inventory report. It also makes it easy to identify an opportunity to refine your POS programming to improve the accuracy of your results on future inventory audits.
We Provide Your Team with the Coaching and Support Needed to Improve
When you start using the Pro version of Bar-i's inventory software, you'll be paired with a dedicated success agent who will assist you with your inventory audits to ensure they're being performed properly. Your success agent will use this opportunity to coach you on how you can improve your POS programming in order to achieve more granular data in your reports.
In the bucket of beer example in the image above, there were 16 bucket rings during this inventory cycle. With 5 bottles in each bucket, there were 80 bottles of beer that have been sold without the ability to identify the specific product. This is a problem because without knowledge of which products were included in each bucket, we're unable to track whether these bottles were actually sold or should be considered "missing product."
When you have this many unidentifiable bottles during an inventory cycle, it becomes very challenging to generate the accurate inventory data you need. As a result, creating specific buttons for each possible combination of bottles in a bucket is a very relevant and necessary addition to your POS system programming.
Once you've created the buttons on your POS system, your success agent will write the recipes for each button for you, ensuring this process is done correctly. At this point, you'll be able to accurately track the specific bottles of beer being sold in your buckets.
We Compare Your Sales to Your Usage
Your success agent will compare your usage with what should have been poured (what you sold). This allows you to identify specific products that are missing each inventory period. Your success agent will then make recommendations that will help you address this problem and reduce the amount of product going missing.
Progress to Self-Service Plan as You Become Comfortable with the Process
Once our team has identified and solved the problems you're experiencing, you should be well on your way to achieving the 3% liquor cost reduction and the associated increase in profits that our clients typically experience.
At this point, you will have more experience using our system and may feel comfortable taking over some of the tasks currently performed by your success agent. Whenever you feel ready to do this, you can switch over to our self-service plan. This allows you to spend less money on our inventory system and get an even higher ROI on your inventory efforts.
Contact us today to find out how Bar-i's inventory software can help you streamline your operations and boost profits. We serve bars and restaurants nationwide from our offices in Denver, Colorado.