Employers in a wide range of industries use noncompete clauses to suppress wages and restrict their employees' ability to change jobs. While these clauses provide employers with a powerful tool that gives them a tremendous competitive advantage, these benefits come at the expense of the workers subjected to them. Noncompete agreements make it much more challenging for workers to experience the upward career and financial mobility that would be possible if they were allowed to take a job with a competitor or start their own competing business.
It appears that the days of employers using noncompete clauses to wield power over their employees may be coming to an end. California has already passed legislation banning noncompete clauses and earlier this year, the Federal Trade Commission (FTC) proposed a new rule that would ban employers from using noncompete clauses nationwide.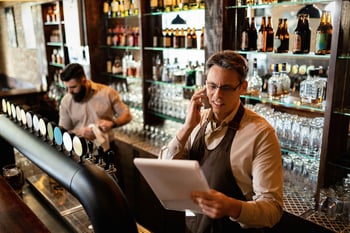 If the FTC rule passes, it will have a significant impact on workers in all industries, giving them greater freedom to pursue better employment opportunities. The effects of this rule may also be felt in our industry. In particular, it may impact individuals who have signed franchise agreements with some of the major bar inventory companies such as Sculpture/Bevintel/Bevinco and Barmetrix.
Because this pending legislation has the potential to significantly impact the employment opportunities of individuals working in our industry, we're going to discuss the proposed new rule and how it may affect existing bar inventory franchisees.
To be clear, Bar-i has never examined the franchise agreements by either of these bar inventory companies, nor have we examined franchise agreements by any of our other competitors. Therefore, we cannot comment about whether these agreements contain noncompete clauses. If you're a current Sculpture franchisee, Barmetrix franchisee, or a franchisee of any other bar inventory company, you will need to review your franchise contract to determine whether you are currently bound by terms of a noncompete agreement. We also recommend that you consult your attorney before engaging in any actions that may potentially violate the terms of your noncompete.
Pending Noncompete Legislation: What You Need to Know
Noncompete agreements are commonly inserted into employment contracts to protect the interests of the employer. These agreements typically contain language preventing employees from accepting new job opportunities in a similar line or work or from forming their own competing business. They also usually contain a specified time period and geographic location – for example, it may prevent you from working for a competitor for five years or within the same state where you're currently employed.
California has already passed legislation banning noncompete agreements in employment contracts. This law makes it illegal for employers from enforcing an existing noncompete agreement or from including these agreements in future employment contracts.
The California legislation impacts both in-state businesses and businesses operating out of state that employ California residents. Therefore, California residents working remotely for an out-of-state company cannot be bound by the terms of a noncompete that the company uses with employees living in other states. If you're a California resident that has a franchise agreement with a major bar inventory provider, you most likely are already free from the terms of this agreement. That being said, you should still confirm this with your attorney before violating any terms of your noncompete.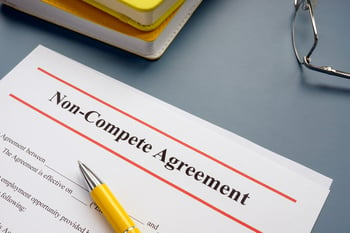 The new rule proposed by the FTC would ban employers nationwide from forcing their employees to enter into noncompete agreements. FTC Chair Lina M. Khan explained the rationale behind the proposed rule: "The freedom to change jobs is core to economic liberty and to a competitive, thriving economy. Noncompetes block workers from freely switching jobs, depriving them of higher wages and better working conditions, and depriving businesses of a talent pool that they need to build and expand. By ending this practice, the FTC's proposed rule would promote greater dynamism, innovation, and healthy competition."
If it passes, the FTC's proposed rule would make it illegal for employers to:
Enter into or attempt to enter into a noncompete agreement with employees
Maintain a noncompete agreement with an employee
Represent to employees, under certain circumstances, that they are subject to a noncompete
The proposed legislation will apply to all workers – both in-house employees and independent contractors such as franchisees. In addition, employers would be required to remove existing noncompete agreements from their employment contracts and communicate to employees that these agreements are no longer valid.
How Will the FTC Rule Impact Bar Inventory Franchisees?
If you have entered into a franchise agreement with a bar inventory provider such as Sculpture or Barmetrix and your agreement contains a noncompete clause, you would no longer be bound by the terms of the noncompete if the FTC legislation passes. As a result, you would be free to evaluate franchisee and licensee opportunities with competing businesses once you receive confirmation from your attorney that this legislation does in fact release you from the terms of your noncompete.
As an experienced bar inventory expert who knows the both the ins and outs of the industry and how to run a bar inventory business, you would potentially be able to leverage this employment freedom to unlock a more lucrative business opportunity. For example, you would be able to create your own independent bar inventory business and license an inventory system such as Bar-i's to provide your services to clients.
Benefits of Licensing Bar-i's Software for Your Independent Bar Inventory Business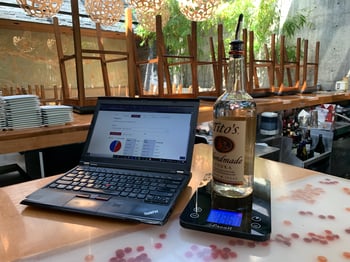 At Bar-i, we've chosen to adopt a licensing model instead of a franchise model. We're currently offering software licenses to qualified individuals who would like to build their own bar inventory business using our system.
We've just finished rolling out our new software platform which provides more advanced capabilities than were available with our old platform. Our new software platform:
Is a cloud-based system
Works on multiple devices
Supports multiple counters
Allows for automated ordering
Suggests orders as well as letting you place your orders
Helps you manage your inventory more effectively to run a more profitable bar
You'll experience certain similarities with the Sculpture and Barmetrix systems, making for a seamless transition. All three inventory companies:
Provide outsourced, detailed level 3 bar inventory audits that compare what was sold vs. poured to determine precisely how much of every product is missing during each inventory cycle


Use barcodes, scales and proprietary software to perform inventory counts faster and more accurately
In addition, there are certain similarities associated with the agreements you sign with each of these three parent companies:
Franchisees/licensees pay for the right to use the software
Ownership of the business is held by the operator instead of by the licensor/parent company
However, Bar-i's software licensing model provides certain differences with the franchise agreements entered into with parent companies such as Sculpture and Barmetrix. These differences have the potential to significantly boost your earning potential as an independent bar inventory business:
We offer a licensing agreement rather than a franchise agreement
There are no territories, therefore no restrictions regarding where you can sell your services to clients
Our software license comes at a fixed cost per year with no royalties
The terms of your agreement are regulated by contract law, not regulations – this results in a more flexible arrangement
By nature, a licensing agreement creates less control than a franchise agreement. For example, Bar-i won't have any control over your marketing methods. In addition, you'll be able to use your own branding and business name instead of ours. Bar-i also can't mandate quality of service requirements to you.
A licensing agreement also provides less support than you'd receive in a franchise agreement. This is due to the fact that as a franchisee, your business would fall under the umbrella of the parent company's business, whereas our licensees are completely independent businesses operating on their own while using our software to provide their services to clients. Therefore, our model is a good fit for former franchisees of another inventory company who already have extensive experience running their own bar inventory business and don't need the same level of support as someone entering into the industry for the first time.
Contact us at (970) 281-7999 for more information on how to become a Bar-i licensee. Start your journey towards owning your own bar inventory business today.