For the last 10 years, Bar-i has been helping bars and restaurants across the country leverage their inventory efforts to maximize profitability. Our Excel-based inventory platform compares precisely what was poured vs. what was sold for each product served at your bar. This allows us to identify products that are underperforming and provide you with recommendations that will help you correct these issues. This has resulted in a 3% reduction in liquor cost on average for our clients.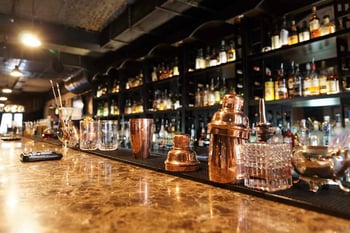 At Bar-i, we're always looking for ways to improve the services we offer. This has resulted in a gradual expansion of our services over the last decade. We originally launched the company with only our full-service inventory system. Over time, we added our Self-Count option, which allows clients to get the same results using our service remotely. We then began offering Speed Count, which is a basic self-service version of our product for $50 per month. Currently, we are working with bars and restaurants in 24 states.
In an effort to continue providing you with the best possible inventory service, we've been working hard on new versions of our bar inventory products. We're excited to announce that we'll be releasing the first of four new product updates this May. The remaining three product releases will be coming later in 2019 and in 2020.
As part of this first release, our Free Count and Speed Count systems will be receiving an overhaul. Some of the highlights of our new and improved Free Count and Speed Count systems include:
We're retaining the use of barcode scanners and scales to enable the fastest and most accurate counting
We've added other devices to allow users on any internet network device to use the system
Our systems now support multiple counters
You will benefit from lifetime data capture, which will allow you to see your data over the entire time you've used our system (our previous versions of these systems only provided data for your most recent inventory audit cycles)
New Version of Bar-i's Free Count System: What You Need to Know
Free Count is a genuinely free version of our software. Currently, we don't have any limits on this free trial length. However, we recommend that you sign up for Free Count now in order to ensure you can maintain an unlimited free version of our software.
You will enjoy the following benefits when you use our Free Count system:
Works with a wide range of devices – Responsive, browser-based software allows you to use our system on Windows PC, Mac PC, iPad and Android tablet. The reporting features will also be available on your cell phone, but counting features currently aren't enabled on cell phones. It's possible that future iterations of our Free Count software may allow you to use the counting features on your phone.


Fast and easy customized setup process – You can easily add products to your counting module by scanning item barcodes using your device's camera. When you scan these barcodes, it will pull items from our global master list of thousands of products. This ensures the setup process is quick and accurate, and it eliminates the need to type the names of hundreds of items into the system.


True shelf to software capability – This allows for precise mapping and counting of all products served at your bar (draft beer, bottled/canned beer, liquor, wine and miscellaneous items such as mixers). This feature lets you break down your bar by specific macro and micro areas, such as individual shelves, to improve the accuracy of your inventory counts.


Instant gratification – You can use our demo mode to test the system briefly and get a feel for how it works. Once you enter your email, you can create an account and begin using the full mapping capabilities right away in order to set up your bar to perform inventory counts using our free system.


Easy to upgrade to our more advanced systems – You will experience seamless integration if you decide to upgrade to one of our paid versions at a later date.
New Version of Bar-i's Speed Count System: What You Need to Know
Our Speed Count system is designed for bar owners who simply want a faster and more accurate way to count bar inventory without the analytics data or the additional cost and complexity of our most advanced systems. It's a great option for bars that want to test the waters with a more sophisticated inventory system. It's also provides an excellent complement for bars that are already using an analytics platform, but want to have a better user experience when performing their physical inventory counts.
We have kept the price of our Speed Count system the same as it was before. When you take advantage of our new Speed Count software, you'll only be paying $50 per month for the service.
Speed Count offers the same features and benefits as our free system, and it also provides you with the following benefits not available with Free Count:
The ability to integrate with hardware that expedites the inventory process – Speed Count uses a physical barcode scanner which makes setting up and mapping items much quicker and more accurate, and a wireless Bluetooth scale which is accurate to the hundredth of an ounce.


Fast and efficient exporting of data – You will have the ability to export item by item product counts into Excel or several other third-party accounting systems. Our inventory system currently integrates with Compeat and Restaurant365, and we will have the capabilities to integrate with many other third-party systems in the near future. If you're currently recording inventory counts on a clipboard and manually transferring this information to an Excel spreadsheet, Speed Count will automate this process, making it much faster while eliminating the risk of data transfer errors.


Calculations are performed automatically – When you count inventory manually using a clipboard, you must aggregate the counts yourself. Speed Count aggregates these counts for you automatically and will provide you with a list of all final aggregated counts. For example, you can count Jack Daniels bottles stored in five separate locations in your bar and our software will give you a breakdown of the number of bottles in each location as well as an aggregate count for the total number of Jack Daniels bottles you have in stock.
Upcoming Bar-i Product Releases
We will be rolling out some additional new product releases in 2019 and 2020:
Bar-i Complete – This will be the second product release and should be available later in 2019. This product adds the ability to track pricing (what you're paying for your inventory products), which allows us to calculate inventory values on-hand. It will also allow you to determine what needs to be ordered, and it will perform liquor cost calculations by integrating purchase amounts and sales by category.


Bar-i Pro – This product release is coming in 2020. Bar-i Pro adds the same "verified to the serving" analytics of our current system on a new, more scalable, user-friendly platform.
We currently have a limited number of beta tester licenses available. This gives you the opportunity to earn a free license in exchange for testing the software and providing feedback. Our new software products have already been extensively tested in an alpha setting, but this beta testing will take things a step further and allow us to evaluate these new products in real-world settings to ensure they are providing the exceptional user experience and results you deserve. If you are interested in becoming a beta tester, you can speak to one of our co-owners, Scott or Jamie, to get the process started.
Schedule a Free Consultation
To learn more about how Bar-i can help you streamline your operations and maximize your profitability, please contact us today to schedule a free consultation. We serve bars and restaurants nationwide from our offices in Denver, Colorado.