Many industries have taken tremendous strides in recent years due to the innovative software and technology now available. While the restaurant industry has been a little slow to adopt these new innovations, there are certainly products that are starting make a huge impact on the way restaurants are run. One of these is Restaurant365.
Restaurant365 is a comprehensive restaurant management software platform that allows you to run all of your operations from one system. The ability to sync all of your processes in one easy-to-use software platform provides tremendous benefits to your operations, allowing you to run your restaurant in a more streamlined and efficient manner. For this reason, the Restaurant365 system is starting to see a significant increase in usage throughout the industry.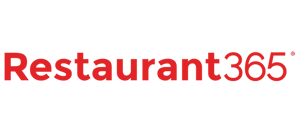 At Bar-i, we understand the importance of having compatibility between the different software systems you use. As a result, we've designed our platform so that our services integrate with Restaurant365. Whether you use our Speed Count system or the pro version of our software, you can leverage the benefits of our inventory software seamlessly if you're currently using Restaurant365 to manage your bar's operations.
Why Do I Need Dedicated Inventory Software if Restaurant365 Already Provides this Service?
Restaurant365 does have its own inventory module which allows you to count and enter your inventory data into their system. Since the point of using such a comprehensive platform is to minimize the different types of systems involved in running your restaurant, you may be wondering why you would need to use Bar-i's software when Restaurant365 already offers you a way to manage your inventory.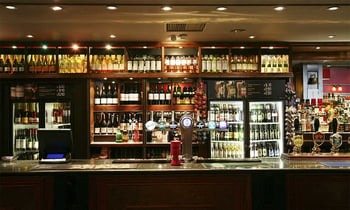 Bar inventory is a slightly different beast than the other processes you must manage as part of your day-to-day operations. In order to get the most out of your efforts, it can be helpful to use software that is specifically dedicated to the inventory process. This will allow you to handle your inventory in the fastest, most efficient manner while achieving the highly accurate, actionable data necessary to leverage your inventory efforts to boost profits.
While you can effectively manage your inventory using the Restaurant365 system, there are several important reasons to consider pairing this platform with Bar-i in order to achieve even better results.
Barcode Scanners Improve Speed and Efficiency
Most bar products other than draft beer are typically barcoded. When you have a swiftly changing product mix as many bars do these days, you'll save a lot of time if you can scan a barcode to identify new products when adding them to into your inventory system.
Bar-i's use of barcode scanners is especially beneficial to bars with a large product mix and/or a rotating product mix. Simply scan the barcode and the item will instantly appear in our system, automating an aspect of the process that can otherwise be tedious and time-consuming.
Scales Improve the Speed and Accuracy of the Counting Process
Restaurant365 uses the tenthing system for counting inventory. This common approach estimates how much is left in a bottle down to the nearest tenth. There are approximately 34 ounces in a 1-liter bottle of liquor, which means tenthing is measuring your inventory in roughly 3.4 oz. increments. This isn't accurate enough to measure your usage down to the serving.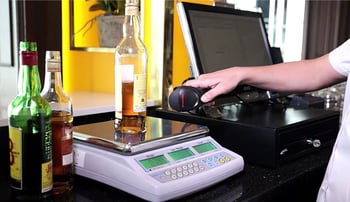 Most bars serve liquor drinks in 1.25 oz. or 1.5 oz. portions. If you want to have an accurate picture of how your products are performing, you need an inventory system that accurately measures in 1 oz. increments to ensure you can compare the number of servings sold vs. poured for every product at your bar.
Bar-i's scales are accurate to the hundredth of an ounce and can weigh each bottle in less than 2 seconds. This combines speed and accuracy to provide you with the most effective and efficient counting process.
Flexible Mapping System Improves Accuracy of the Counting Process
Restaurant365 allows you to map out your bar and have different counting locations. This is an effective tool that will make the counting process much easier. Bar-i's system takes this idea a step farther. In addition to providing the ability to map different counting locations in your bar (macro zones), you can also split up these areas into individual shelves or wells (micro zones).
There are several advantages to utilizing these micro zones:
Always know where you are in the counting process – It's much harder to get lost when you are counting in smaller chunks (shelf by shelf).


Error checking – We can identify right down to the shelf where potential errors are so that you know exactly where to check your work to see if a miscount occurred.


Excellent specificity and flexibility with ordering – With our new mapping system, you can drag and drop items in your counting list into an order so that you can instantly change the order without having to rescan or erase items.
Instantly Export Data from Bar-i's Software into the Restaurant365 System
Bar-i's Speed Count and Speed Count Pro options both support the instant exporting of line-by-line counts into a format that's specially designed for Restaurant365 so that these counts can easily be imported into their system. While you're adding some complexity to your operations by using an independent inventory software with the Restaurant365 system, the two software programs communicate with each other smoothly and effectively.
This provides a seamless process for integrating your inventory data into the main Restaurant365 platform. Ultimately, this compatibility will allow you to maintain one of the primary benefits of their comprehensive system since you can still manage your inventory data in the same place as you manage all your other operations.
Easily Upgrade to Our Pro Version with the Same Ease of Integration
If you start out using our Speed Count service, you will be able to easily upgrade to our Speed Count Pro version down the road without changing the way our software integrates with the Restaurant365 platform. You'll be able to enjoy the same simple process, but reap even more benefits by getting the data analysis that comes along with the pro version of our software.
Upgrading to Speed Count Pro provides you with the following benefits:
Results are verified to the serving – Every count is independently verified by your dedicated account manager, and results are provided down to the serving. For every product sold at your bar, we will compare how many servings were sold vs. poured during that inventory cycle to identify areas where you have a significant amount of product missing.

The level of support we provide with this analysis helps improve your confidence in the data. Your managers will spend less time generating this data and more time using it to effectively manage the staff and improve your bar's operations.


Time savings in the data entry process – Because Bar-i's system is specifically designed to track individual product variances and because we do all the data entry/analysis for your managers, it saves them a lot of time. This frees your managers up to focus their time and energy on what they do best – making sure your bar is run well and your customers receive an excellent experience every time they walk through the door.


Variance report to identify errors – It's inevitable that there will be some errors in the counting process from time to time. You're dealing with a lot of different products and deliveries every week. This creates numerous opportunities for human error to occur when counting.

Bar-i's pro version recognizes this reality and before we send our report to your manager, we provide you with a variance report that identifies any items that need to be double-checked. This allows us to get rid of any errors that occurred during the counting process before we provide you with your data and recommendations. You will typically receive the variance report within an hour of completing your counts in order to ensure all items can be addressed right away.



Manager transition support – When you have a new manager, we provide an additional resource to help train and get this person up to speed. This minimizes the potential for discrepancies in your inventory results while the new manager becomes familiar with the process. In an industry where high turnover is common, it's useful to know that you have systems in place to ensure this important information is still being generated accurately during times of transition.


Follow-up, reporting and consulting services – Our reporting includes handwritten comments. We also offer follow-up and support by email so that we can discuss any questions you may have about the data and our recommendations. This level of responsiveness and consulting adds value that can't be provided by a DIY inventory option.
Are All of these Benefits Worth the Cost of Adding Another Software Platform to My Operations?
We believe they are. Most of our clients experience a 3% reduction in their liquor cost after using our system for several months. For an average bar doing $50,000 in monthly sales, this reduction in liquor cost will equate to $1,500 in savings per month. The cost of using Speed Count Pro is $480/month when you do weekly inventory audits. Ultimately, this is a strong ROI that will result in adding over $1,000 to your profit margin every month after accounting for the cost of our service.
Since our inventory software is designed to seamlessly integrate with Restaurant365, you can easily leverage these benefits without disrupting the way your current platform operates. This provides you with the best of both worlds – experience the convenience and effectiveness of running your entire operation with a comprehensive platform such as Restaurant365 while also enjoying the improved profitability that is possible when you use dedicated inventory software specifically designed to identify and address all products that are currently underperforming.
If you'd like to learn more about how Bar-i can help you streamline your operations and maximize your profitability, please contact us today to schedule a free consultation. We serve bars and restaurants nationwide from our offices in Denver, Colorado.