Compeat is one of the leading restaurant management software platforms available. It allows you to manage all aspects of your operations in one system, including accounting/payroll, sales data, scheduling and inventory. The timely, accurate data generated by this system allows you to more effectively run your restaurant.
As part of Compeat's suite of services, they provide a dedicated inventory counting app. This will allow you to handle basic inventory functions such as managing your ordering and calculating your liquor cost. By using Bar-i's inventory system to complement the inventory services provided by Compeat, you can generate the data necessary to leverage your inventory efforts as a profitability tool.
We've designed our software in a way that makes it easy to use in conjunction with the top restaurant management systems such as Compeat and Restaurant365. When you use Bar-i's inventory service alongside Compeat, you'll be able to manage our detailed inventory data in their platform for a smooth user experience.
Seamless Integration
The Bar-i system allows you to easily select Compeat as an integration partner. This will export your counts in a special, dedicated Compeat format. Setting up this integration is very simple:
The unique IDs from the Compeat system will be matched up in the Bar-i system for all the products you count


When you export the reports, the highly accurate counts achieved using Bar-i's scales will be on the same line with the Compeat unique ID


In a single click, you can import your line-by-line inventory counts into the Compeat system
Barcode Lookup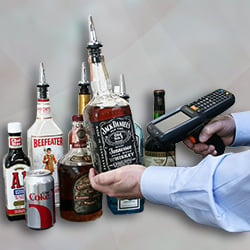 Bar-i's system uses a wireless barcode scanner that makes setting up and adjusting your counting system much easier. The setup process is very simple. Just scan the barcode on the product and the exact item will automatically populate into our system. If you carry new products over time, you can add them to our system in the same manner.
This is a much more effective way to set up your system than by manually selecting a product from a dropdown menu. Often, there will be a wide range of options to choose from. For example, if you want to add Jameson to the system, the dropdown menu may include Jameson, Jameson 12-year, Jameson Black Barrel and several other products. In addition, there will usually be several different size options for each product (750 ml, 1 liter, 1.75 liter). With all of these choices, the likelihood of accidentally selecting the wrong item is pretty high.
By using the existing barcode on the bottle, the product will be identified much faster and more accurately. Bar-i's data base has over 25,000 products, so the vast majority of items you carry are already in our system.
Micro Zone Mapping
Compeat allows you to set up counting zones for the main bar, storage areas and walk-in cooler that map out the order of products in each of these locations. This is a great feature that will improve the speed and accuracy of the counting process.
Bar-i has an additional layer of mapping that allows you to set up micro zones for individual shelves. The customized list of products on each shelf (micro zone) makes it easier to count these areas in the exact same order as the bottles appear on the shelf. The use of micro zones makes the counting process even faster.
You can easily drag the items to quickly change the order of each micro zone if you rearrange the positioning of bottles on a specific shelf. This ensures that your mapping system will always reflect the current organization of your bar and storage rooms.
Error checking is also faster and more accurate using micro zones. If you notice a variance on a particular product, you can drill down to the specific shelf where the item was counted. This will make it much easier to identify and resolve the counting error.
Between the use of scales to count bottles and micro zones to accurately map out every storage location in your bar, there is no faster way to count inventory. As a bar owner, your most precious resource is time. Many of our clients find the micro zones to be a tremendous benefit that frees up more time for their staff to attend to other important tasks.
Increased Accuracy, Speed and Objectivity of Inventory Counts
Most counting software doesn't utilize any hardware integration. Instead, many systems work off of a variation of the tenthing method. This reduces the accuracy and objectivity of your counts.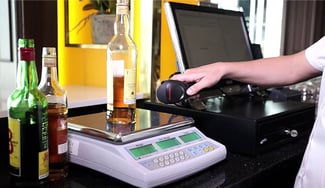 One tenth of a one-liter bottle of liquor provides a measurement size that is over 3 ounces. This doesn't provide the accuracy necessary to measure your usage down to the serving (most drinks are poured in serving sizes between 1 and 1.5 ounces). Bar-i's counting system involves the use of scales that are accurate to the tenth of an ounce and take approximately 2 seconds per bottle to weigh. This provides several important benefits:
Increased accuracy that allows you to identify the specific number of servings missing for every product you carry


Faster counting process than tenthing with an app


You'll always get the same reading for each bottle no matter who is performing the inventory count, providing much more objective results than are achieved using a process that requires your staff to estimate the level of liquor remaining in a bottle
Split Up Counting Among Several Staff Members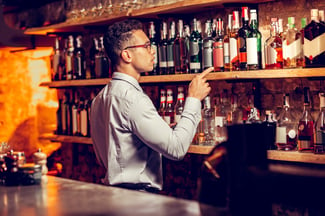 Bar-i offers the ability to add six employees in the system, allowing you to split up your bar among six different counters. These counts can be seamlessly aggregated and exported to the Compeat system.
While most bars won't need to split the counting among six people, you may find it useful to split this task among two or three people if your restaurant is very large and contains multiple bars, storage areas and coolers. This feature is especially beneficial for multi-outlet venues such as hotels and casinos.
Easily Upgrade to Our Pro Version and Maintain the Same Seamless Integration with Compeat
Both the basic version (Speed Count) and the pro version of our software have the ability to integrate with Compeat. This allows you to start out with a more basic inventory system and upgrade at a later date if you decide you want to take advantage of the data analysis benefits provided by our pro version.
Most bars that are doing self-service inventory find that it can be challenging to get results that are verified down to the serving, which often makes it harder to be confident in your results. If you want to be able to use your inventory efforts to reduce shrinkage and improve your profitability, you need to be able to identify the specific number of servings missing for every product you carry. You can then take the steps necessary to improve the performance of any products where too much is missing.
Upgrading to the pro version of our inventory software provides additional accuracy and oversight. Your staff performs all counts and then Bar-i's dedicated inventory expert analyzes all the data in order to generate specific recommendations regarding how to improve the performance of struggling products. We've found that clients using our pro version typically reduce their liquor cost by 3%. This can equate to a significant increase in profits for bars with moderate to high sales volume.
If you'd like to learn more about how Bar-i can streamline your operations and help you maximize profits, please contact us today to schedule a free consultation. We serve bars and restaurants nationwide from our offices in Denver, Colorado.