One of the benefits associated with modern technology is the ability to automate more of the tasks necessary to run your business. Automating repetitive, boring tasks saves time so that you can put more energy into the high-level tasks that truly require your attention and talents.
There are many examples of businesses adopting technology that facilitates the automation of certain processes. Some of the higher profile examples include:
Waymo is set to begin trials of truly driverless cars in Phoenix
McDonalds now allows you to order your food using a touch screen ordering station, eliminating the need to talk to an employee behind the counter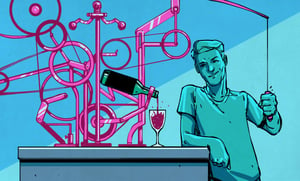 In the right situations, automation can significantly streamline your bar's operations. However, it's important to understand that only certain processes associated with running a bar or restaurant lend themselves to automation. Other tasks are still much more effectively performed by a person.
Aspects of Running a Bar that can Be Done Using Automation
There are already ways in which you can automate some of the processes associated with running your bar:
POS systems – Modern POS systems are now standard technology used in bars. These systems can effectively automate processes such as printing guest checks and printing food orders in the kitchen, and they can help you standardize many aspects of your bar's operations.


Toast – Toast is a cloud-based restaurant software company that incorporates elements of automation into their system. Toast allows you to automate the integration of online orders so that you don't have multiple systems working at the same time.

For example, if a customer places an online food order using a service such as Grubhub, the order will go directly into Toast's system so that this information gets to your kitchen seamlessly without the need for a third party to manually enter the order into your POS.


Self-service draft beer systems – Many bars are starting to streamline their beer service by using self-service draft beer systems. These systems allow bar patrons to serve themselves, and the use of smaller drink sizes encourages craft beer aficionados to sample more of the beers on tap. Self-service draft beer systems also provide you with a tremendous amount of data that you can use to grow your business over time.
Taking advantage of these automation opportunities can help you provide better service to your customers and ultimately improve the profitability of your bar.
Many Aspects of Bar Inventory Tasks May be Resistant to Automation
There are some tasks, including many items related to bar inventory, that still require human oversight. Trying to automate these tasks won't provide much of a tangible benefit to your operations. Instead, automating these tasks may actually make it more challenging to run your bar at peak levels of efficiency.
Some of the tasks that aren't ideally suited for automation include:
Counting – In a perfect world, counting bottles would be fully automated. However, none of the systems currently available have truly created an automated counting process. As a result, you still need to physically verify the inventory you have on-hand at your bar, regardless of the software you use to assist with this process.

Some systems, such as flowmeters, tell you what you used, but they tend to require manual adjustments and verification. These systems also can't address issues such as invoicing errors or staff members giving away free drinks to customers. Even if you're using elements of automation to count inventory, you should perform physical inventory at least every other week. Otherwise, you're not able to get a full picture of what's going on at your bar.

Bar-i checks purchases coming in the door by verifying invoices, and we monitor the amount of product being used by analyzing your POS reports. This will provide you with an accurate count of how much product is missing each week. The only way to identify inaccuracies and variances associated with your counting process (which is necessary to achieve accurate, actionable data) is to physically see what you have on-hand.


Product selection – Determining your product selection is more of an art than a science. You need to keep up with rapidly changing trends, take advantage of price deals and incorporate customer feedback in order to ensure your product selection is helping you grow your business and maximize profits. These nuances require human attention to do properly, making it challenging to automate the process.


Writing recipes – If you want more advanced bar solutions that can calculate shrinkage and use inventory efforts as a profitability tool, you have to write recipes for every drink that has a button on your POS system. These recipes will allow you to see exactly what was sold and compare that figure to what was poured. This is the essence of the service provided by Bar-i.

It's not easy to automate the recipe writing task because it requires a sophisticated understanding of bar operations. For example, there are many nuances associated with accounting for head on draft beer products. Domestic beers and ciders don't hold head as well as craft beers do, so you'll need different pouring assumptions when writing recipes for these products since more alcohol will go into the glass compared with a pint of craft beer. This nuanced knowledge is important to ensure you get your calculations right and receive the accurate information you need.


Resolving errors – There are many opportunities for errors to occur during the inventory process. Invoicing errors, spills that need to be accounted for, miscounts that must be checked and corrected, and undocumented product substitutions can all provide a muddy picture of your bar's performance. If you don't have a robust process for identifying these errors and evaluating patterns in the data you're receiving from your inventory efforts, you won't achieve accurate information that can be relied upon to improve your bar's operations. This error resolution process must be overseen by a person. It's virtually impossible to create an algorithm that will address all the varied potential causes of errors that exist.


Interpreting inventory results to identify areas requiring action – Bar-i looks at hundreds of inventory audits each month, and this experience has made us very good at spotting opportunities for improvement that are shown in the inventory data we generate.

We provide a detailed report with every inventory audit which includes feedback that will guide your managers' actions. This ensures your managers know how to best apply their efforts in the areas that will make the biggest impact on improving your results.

These recommendations eliminate your need to analyze and digest complicated data on your own, which would be necessary if your entire inventory process was automated.


Taking action to improve your bar – Bar inventory is about measuring what happened in the real world. This data can be used to start informing the real-life actions and processes at your bar to help reduce shrinkage and lower your liquor cost. Based on your inventory data, you may decide to schedule a staff meeting or conduct pouring practice to improve the performance of your bar staff. These actions and trainings can't be automated. They must be done in person and be run by someone who is experienced with your operations.
While you can certainly use software to speed up calculations and automate elements of the inventory process, you still need to invest the time personally to ensure that the data is accurate and all necessary actions are being implemented by your staff.
Bar-i Provides the Personal Oversight Necessary to Get the Most out of Inventory Efforts
The philosophy driving Bar-i's service is that everyone should spend their valuable time where their efforts will make the biggest difference to your bar's performance. We know that your time is your most valuable resource and the more time you can spend running your bar, the better.
We'll crunch all the numbers for you since we've got extensive experience performing this data analysis. The time you save by not having to do this work can be spent focusing on the items that only your managers can do. You can also spend more time using the results from your inventory efforts to improve your business.
While automation software can save you time, you still need a human to operate the system. By having an experienced inventory expert from Bar-i run the software and manage your inventory process, you can achieve vastly better results than would be possible if the entire process were automated.
If you'd like to learn more about how Bar-i's inventory technology can help you streamline your bar's operations and maximize profits, please contact us today to schedule a free consultation. We serve bars nationwide from our offices in Denver, Colorado.