At Bar-i, our approach to bar inventory is to calculate the usage of every product you carry down to the serving in order to identify precisely how much is missing. While the scales we use to count inventory for liquor bottles effectively accomplishes this goal, it can often be more challenging to measure what is in your beer kegs to this level of accuracy.
We recently came across a new technology that provides a better solution to tracking the inventory of your kegs, allowing you to achieve the detailed, actionable data necessary to truly evaluate the performance of your draft beer products. This technology, called Kegtron, measures how much beer is being dispensed from your kegs in real time. You can then view this information online in order to track losses.
What Is Kegtron?
Kegtron was founded in 2017 with the goal of being able to keep track of what is in your kegs:
Current levels
What's been dispensed
What's remaining
Initially, the system targeted consumer users such as home brewers and individuals who had a kegerator in their home. After the consumer product was released, they discovered there was considerable commercial interest in this system, and this led to an expansion of their product line.
Kegtron Pro Is Specifically Tailored to the Needs of Bars and Restaurants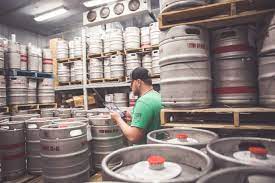 Kegtron Pro was released to more effectively address the needs of bars, restaurants and events venues. In addition to tracking keg inventory, Kegtron Pro provides data that can help bar owners improve their bottom line.
The concept for Kegtron Pro was the same as the original consumer version, but the design became more commercial grade and the data reporting became more robust. Whenever you serve a beer on tap, it's measured, timestamped and pushed to the cloud so your bar manager can view the dashboard and see a precise history of what's being served and when.
The pro version also allows you to run reports and get alerts. This gives visibility to what's actually happening with the beers you're serving on draft.
Kegtron Blends the Creator's Electrical Engineering Background with His Passion for Brewing
Kegtron's creator, Steve Keck, has been an electronic hardware engineer in Silicon Valley for over 25 years. He's also been passionate about brewing beer for a long time, and Kegtron began as a pet project that allowed him to combine his vocational expertise with his personal hobbies. The system came together very naturally, as he was easily able to use his electronic technology knowledge to solve the kegging problems he was experiencing as a brewer.
After developing the initial Kegtron system, Steve was surprised to find that there weren't other systems targeting the simple home user. This led him to begin marketing his system to home brewers who simply didn't have the time to create their own solution to these common kegging problems.
Kegtron isn't the first keg monitoring technology created – there have been similar commercial systems available for some time. However, Steve found that many of these commercial keg monitoring systems are extremely expensive, difficult to install, and use antiquated technology. He was confident he could create a system that performed this job much better than the alternatives on the market.
Kegtron Pro Significantly Improves on the Original Consumer Version
The original consumer version of Kegtron allows you to identify how much beer is left in your keg, but doesn't offer much data beyond this basic measurement. Kegtron Pro is much more advanced, providing bar and restaurant owners the ability to look at individual servings to see exactly what is happening and when.
Kegtron Pro provides real time monitoring, allowing you to use the data in a variety of ways:
You have the ability to generate reports that leverage your data to improve your business
You can set a variety of text or email alerts to let you know if a keg is running low or that an employee is serving beer after hours
If you're using a more basic method to measure your kegs (such as weighing them on a scale), you may know that you're losing beer, but you have no idea when those beers were lost or who was working when these beers were being given away.
Kegtron allows you to determine precisely when beers go missing by providing timestamps for every pour. This information can be compared to your POS data which contains timestamps for every item that was rung in. Cross-referencing your Kegtron and POS data provides the level of detail you need to truly understand what's happening during every bar shift.
Kegtron Solves a Variety of Problems for Bar and Restaurant Owners
Installing Kegtron will pay big dividends for bar and restaurant owners:
Greater Visibility
Many bars recognize that loss is part of the business. There are many potential reasons for this loss:
Kegtron provides greater visibility and measurement capability to draft systems than has typically been available in the past. Even when this visibility was possible, it was often cost prohibitive or too difficult for bars to implement. Kegtron provides an affordable, easy to use solution that delivers the visibility you need to accurately track the performance of your draft beer products.
Reduced Time and Risk of Injury
Many bars weigh kegs to get more accurate inventory data. This is time consuming, physically challenging, and presents a safety issue. It's common for bar staff to suffer injuries if they don't lift a keg properly. By providing real time measurements, Kegtron can save your bar time and money while protecting the health of your staff.
More Practical Measurement Solution for Crowded Keg Rooms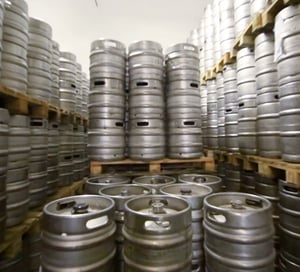 In some instances, it's simply not practical to weigh kegs. Some coolers are packed full with kegs, making it impossible to move them around in order to weigh them. Kegtron gives you a way to accurately take inventory of these kegs when other more traditional methods aren't available.
Why Kegtron?
The biggest advantage you'll experience with Kegtron compared to other keg inventory solutions on the market is greater simplicity of installation and usage. Kegtron products are all WiFi based so there are no wires involved other than bringing low voltage power to the keg monitors. You'll be up and running in three simple steps:
Connect the keg lines
Connect the monitors to power
Log into WiFi
Many of the other systems available have sensors that are hard wired. This creates a messy cluster of wires going to hubs or gateways. Some systems may also require you to install a PC onsite with software running on it. This additional layer of complexity makes installation much more expensive, and you may even need to have someone specially trained to come out and complete the installation process.
Kegtron eliminates all of these hassles. The system is simple enough that nearly 75% of clients install it themselves. If you know how to change a keg, you can install this system.
Scalable to Address the Needs of Small and Large Bars
In addition, Kegtron is modular. Many of the other existing systems are designed for bigger bars that have a large selection of beers on tap. If you run a small bar or restaurant with only a few taps, these systems may prove to be cost prohibitive. Kegtron is modular enough that it's affordable for small bars, but it can also accommodate the needs of bigger bars with large draft systems.
Because Kegtron is modular, you have the ability to try it out on a few draft lines to see if it will meet your needs. This is very affordable to set up and install. If you decide you like the system, you can easily expand it and start using it with all of your beer lines. This eliminates the need to spend a lot of money trying out a system before you know whether it will truly meet your needs.
A Versatile Solution
One final benefit to Kegtron is its versatility. The system can be used with any drink served out of a keg. If you batch craft cocktails and serve them out of a keg, you can use Kegtron to track the performance of these products. Similarly, Kegtron can be used with items such as sparkling water or coffee if these beverages are being served out of a keg.
Stay Tuned for Updates on Integrations with Bar-i Software
Kegtron's system is very aligned with Bar-i's philosophy of identifying what products are going missing in order to correct the issue. For this reason, we've been carefully vetting this system and once our testing is complete, we may consider integrating our software with Kegtron to provide our clients with a more accurate way to track their draft beer usage. We hope to have more information about potential integrations in early 2022.
If you would like to find out more about how Bar-i can help you streamline your operations and maximize profits, contact us today to schedule a free consultation. We serve clients nationwide from our offices in Denver, Colorado.