The restaurant industry is no stranger to challenging circumstances. Even before having to navigate the current health pandemic, restaurant owners faced considerable obstacles to running a profitable business. Some of the most pressing issues they must address include:
Low margins – This makes it challenging to stay profitable, and magnifies the importance of getting all the small items and details correct to maximize these razor thin margins.


Crunch hours – Most bars do the vast majority of their sales volume in small subsections of a few shifts during the week. Friday night, Saturday night and a few other choice shifts generate most of the revenue. The challenge becomes getting drinks across the bar fast enough to maximize your revenue during these busy rushes.


Staff changes – The restaurant industry typically has a very high employee turnover rate. Training people to be fast and consistent is more challenging when you always have new employees learning your system.


Increased customer expectations – Bar clientele has become more sophisticated in recent years. Customers now want craft cocktails served at the speed of a Jack and Coke, but as delicious and carefully put together as you'd expect from an expensive, high end cocktail.
Batching Craft Cocktails Can Alleviate Challenges Faced by Bar Owners
Due to these challenges, batching craft cocktails often makes sense for bars. Batching cocktails provides several important benefits:
Increases speed and consistency of service – We work with some high-end bars that make their batches in pony kegs and serve them through their draft system. With correct glassware and some nice garnish, you can get really good drinks that look and taste great even when they're poured from your draft system. They provide your customers with all the benefits of a delicious craft cocktail while helping your bartenders avoid the long prep time and slow service typically associated with these drinks.


Moves the work from crunch time to setup – The time-consuming process of creating craft cocktails gets completed at the start of a shift before customers arrive. This allows you to serve them much faster during a busy rush.
Craft Cocktails Create Problems for Bar Inventory
While the benefits of batching your craft cocktails far outweigh the drawbacks, it's important to understand that you'll face certain challenges when trying to take inventory for these drinks. This shouldn't deter you from batching popular craft cocktails at your bar; however, you will need to address the following challenges in order to get the most out of your inventory efforts:
High complexity – It's difficult to inventory an item that contains multiple ingredients. For example, a house margarita contains tequila, triple sec, lime juice and several other items to provide a signature taste. When you want to inventory your house tequila, you have to count full and partial bottles as you normally would, but you also have to figure out how much tequila is mixed up in the house margarita batches. This makes the counting process considerably more complicated.


Custom vessels – Liquor typically comes in 750 mL or 1 L bottles, but batched cocktails are usually stored in custom vessels which are more difficult to inventory. You'll need to plan around these vessels to ensure inventory is counted properly.


Mixing of ingredients – If you put several different ingredients in varying amounts into one custom vessel, it can be challenging to identify how much of each ingredient is in the batch.


Lack of accountability – These drinks are more likely to go missing because they're harder to inventory. Therefore, it's easy to undo the benefits of batching if you're not properly organized.
Bar-i's Inventory Software Makes Counting Batched Cocktails Easy and Accurate
At Bar-i, we recognize the benefits of batching as well as the challenges they create. We've designed a custom module to account for these items accurately. Once you set up these custom modules in our software, inventorying complicated and unique batched craft cocktails becomes as simple as weighing a bottle of Jameson.
Our custom module allows you to enter any combination of ingredients. If you add a new liquor item to your counting system, you can easily choose from standard bottle sizes when setting up the vessel. When you create batches, we provide you with a more customized setup menu that accounts for the quantity of each ingredient used (both alcoholic and non-alcoholic), as well as the custom vessel size for the container holding your batch.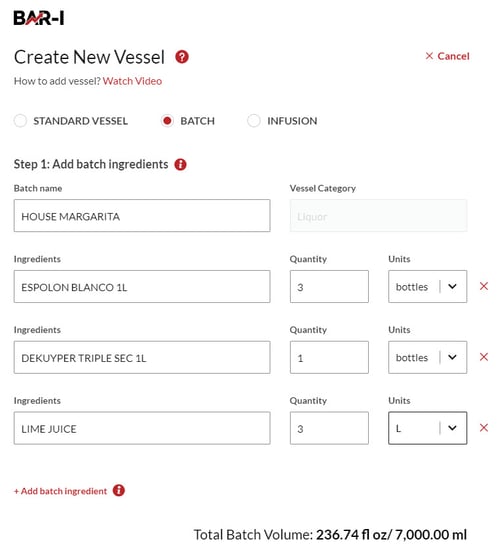 This custom module addresses several other issues in order to streamline the counting process for your batched items:
Accounts for tare issue with infusions – Infusions are a great way to achieve a unique flavor for a particular liquor. However, it adds complexity to the counting process since the infused ingredient contributes to the tare weight when you weigh your vessel. You need to know what these ingredients weigh and build this into the setup process so that your counting software knows not to account for the weight of the infusion items. This way, you're only tracking the weight of the liquor being served to customers.


Create up to 3 custom vessels per batch – Our software allows you to have up to three separate vessel sizes for each batched cocktail in order to account for the different ways you store these drinks. It's common to have a master container for large quantity backup, a medium container to provide some backup batch behind the bar, and a serving container used for pouring these drinks. Being organized and allowing you to have three types of vessels added to the system for each batch means we can have greater standardization and precision with counting.


Software does the math – Once you create these custom modules in our inventory system, the software does all the math for you. As long as all ingredients are entered correctly, the software will perform all calculations instantly and accurately for you every time. This allows you to achieve the precise results necessary to perform level 3 inventory for all batched items. Level 3 inventory compares what was poured vs. what was sold to identify how much of each product is missing.
Once you've set up the items in the system and created standardized entries for ingredient quantity and vessel size, you can count batched cocktails like any normal item. Once you weigh the batch cocktail vessel, the weight will automatically be entered into our software and all calculations will be performed for you.
The Proper Inventory Approach Will Help You Get the Most Out of Your Batched Cocktails
Batches, infusions and other custom items are smart business. They increase revenue, create something unique that only your bar serves, and improve the consistency of these items. However, they also add a layer of complexity to your drinks, which can cause issues with the inventory process without proper planning. Using inventory software that specifically addresses the challenges associated with counting batched cocktails will allow you to reap the benefits while eliminating the inventory issues commonly experienced with these items.
If you'd like to learn more about the best way to inventory your batched craft cocktails, we recommend that you speak with one of our dedicated inventory experts. Once we understand how you're using your batches, we can standardize the process, implement it into your inventory system and provide you with the accurate data necessary to reduce shrinkage and maximize profits.
Please contact us to schedule a free consultation and get the process started. Bar-i serves bars and restaurants nationwide from our offices in Denver, Colorado.