At Bar-i, we've performed over 7,000 detailed liquor inventory audits in 25 states. Through this experience, we've seen bars approach the counting process in just about every way imaginable. One thing we've consistently found is that when bars try to count their inventory at night, it results in significantly lower quality results that negate the benefits that are typically achieved by generating highly accurate inventory data.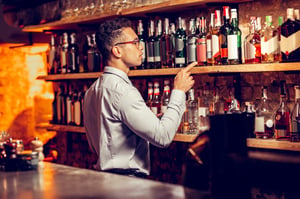 With our Speed Count Pro service, you perform the count and our inventory experts crunch the numbers. This allows you to receive detailed data that can help you improve your profitability at a fraction of what it would cost to have us count for you. However, in order to achieve accurate data, your counts must be done correctly. This involves counting early in the day when it's quiet at your bar and the task can receive the counter's full attention.
Counting inventory at night creates a perfect storm of problems that often prevent you from being able to trust the accuracy of your results. Due to the following issues, we believe you should never perform your counts at night.
Your Counter is More Likely to Rush Through the Process
When you've finished a long night shift, your primary goal is to get out of work as fast as possible and get home (or in some cases, try to grab a quick drink before all the other bars close). The last thing any employee wants to do late at night is spend a couple of hours counting bottles.
If you make counting inventory a closeout task after a shift, it's going to lead to an attitude and approach that makes accuracy more challenging. This is simply human nature. No one wants to be thorough with their count and double check their work late at night. They will rush through the process as fast as possible in order to get home.
Counting When You're Tired Increases the Likelihood of Errors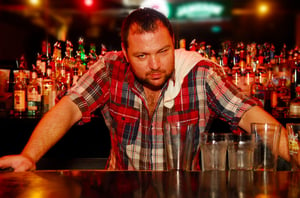 After a long night shift, your employees are all tired. This is not when they will do their best work. Most people are freshest and most alert early in the day, and this is when you'll get a better effort and more accurate results out of the counting process.
Doing a full shift and then trying to count inventory when you're tired from hours of hard work increases the likelihood of errors. This will create problems with your results and prevent you from being able to trust your inventory data.
You Lose the Ability to Double Check Your Work
There needs to be a dedicated error resolution process as part of your inventory audits since we're all human and make mistakes from time to time. The ideal process for performing an inventory audit is to complete your count and receive your results right away. This will allow you to see potential areas where you have counting errors.
If inventory is counted and then you go to bed, the chances that you're going to double check your work the next morning are pretty low. In fact, it's likely the counter won't even be working the next morning to double check the numbers.
Bar-i's process ensures you double check your work to resolve errors the same day you perform the count. Within two hours of completing your count, we send you back a list of items to double check. This process is much more effective when you count in the morning. It lets you double check any potential issues before the bar gets busy and items get moved around. Double checking errors becomes much more complicated if you try and troubleshoot these issues the following day after items have been moved from the storeroom to the bar to restock from the night before.
You're More Likely to Experience Confusion Over Your Counts
Out of a desire to finish as early as possible, many bartenders will try to stock the bar and count the storage areas before last call, and then count the items behind the bar after closing. The possibility of people needing items that are out of stock and grabbing a bottle from the storeroom while the count is in progress increases confusion regarding what has been counted. This can lead to an increased risk of errors.
The Counting Process Is Less Likely to Receive the Emphasis it Deserves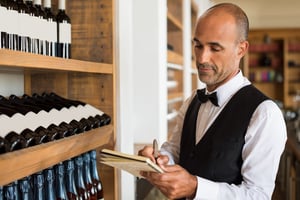 In our experience, most bars that fail to make the inventory process a priority lose 10-20% of all products being poured to shrinkage. We've found that when inventory is done well, it can be a tool that reduces your liquor cost by 3% on average and can:
Be a driver of better information
Lead to better decision making
Help you become a more organized and profitable business
If you're performing your counts at the end of the night, you're most likely not bringing the right emphasis and attitude to the process. This limits the ability of your inventory efforts to improve your business. Instead of becoming a powerful tool to drive profits, it simply becomes a box that gets checked off on your list of tasks to complete.
Bar-i Can Help You Use Your Inventory Efforts to Improve Profitability
At Bar-i, we focus on Level 3 inventory by comparing precisely what was poured vs. sold for every product served at your bar. This allows us to tell you exactly what you're missing and recommend ways to improve your bar's performance. This level of detail is achieved by a precise counting process that identifies the quantity of each product on-hand down to the serving. Our weekly inventory report will help you make adjustments to your operations that will reduce shrinkage, lower your liquor cost, and maximize your profitability.
Please contact us today to schedule a free consultation. Bar-i serves bars and restaurants nationwide from our offices in Denver, Colorado.