One of the areas that presents the biggest challenge when performing bar inventory is determining how much beer is left in partial kegs. If your primary goal of your inventory efforts is to guide your ordering, then accurately identifying exactly how much beer is left in each keg isn't crucial. However, if you are trying to evaluate the performance of your draft beer products, you will need precise inventory data to allow you to compare sales and actual usage accurately.
In order to accurately calculate your draft beer usage, you need to know:
How many kegs you had at the start of the inventory cycle
How many kegs you have at the end of the inventory cycle
How many kegs were delivered during this time period
The process of determining the number of full kegs is easy – you just need to count them. However, the process is a little more complicated for partial kegs.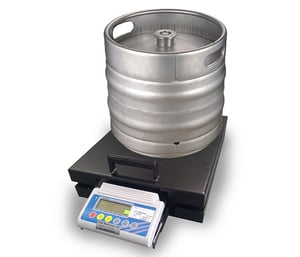 Traditionally, weighing partial kegs on scales has been the go-to method to determine how much beer is left inside. But in order to weigh a keg, you have to pick it up. A full-sized keg weighs approximately 160 pounds. This can be challenging to lift for big people, and not all bar managers have the size and strength to lift such heavy objects on a regular basis. If your bar manager is petite, it can be extremely difficult to pick up mostly full kegs to weigh them during inventory and also poses safety issues.
Fortunately, new technology is available that can eliminate this issue, making it easier for you to track the contents of partial beer kegs. KegSafe uses ultrasound technology to provide real-time data on the beer level in your kegs. This not only improves the accuracy of your data, but it eliminates the need for your managers to lift heavy beer kegs.
How Does KegSafe Work?
Essentially, KegSafe works by shooting an ultrasonic electrical impulse into the keg to determine how much beer is left inside. However, the process of making this technology work is somewhat complex.
The KegSafe hardware includes a small base which adds ¾ of an inch to the height of your keg. In most instances, this nominal change in height won't impact the keg's ability to fit on the shelf of a walk in or in a kegerator.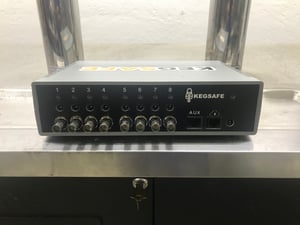 Attached to the base is a transducer which touches against the bottom of the keg. The transducer sends a soundwave through the stainless-steel wall at the bottom of the keg. This soundwave travels through the keg, bounces off the top of the beer and comes back down. This process is used to determine the level of beer in the keg, which then gets relayed to a transceiver mounted inside the keg room. The transceiver then sends this information over the internet to the KegSafe website, and you can easily access this information on your cell phone using the system's app.
You have the ability to set alerts so that you know when it is time to replace kegs. When the light is green, you know there is a sufficient amount of beer in the keg. As the level of beer gets lower, the light will change to yellow and then again to red. When the beer level is extremely low, the lights will start flashing. This makes it easy to monitor your beer lines at all times and allows you to avoid line blow-outs when a keg is about to run out of beer.
In addition, KegSafe provides the following benefits:
Access to real-time data regarding the performance of your kegs
Ability to track daily, weekly and monthly usage of every draft beer product you serve
Facilitates ability to compare ounces of beer poured with ounces of beer sold
Greater than 99.5% accuracy when calculating keg levels
Cost and Availability of KegSafe System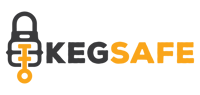 The device is currently in beta testing and should be available to bars within the next six months. In order to use the system, you have to run power and internet into your keg room or wherever you keep the transceiver. Each transceiver can handle 8 kegs. The KegSafe system works with standard half barrel, quarter barrel and sixtel kegs.
You can lease the equipment for a one-time $500 fee, and the cost to use KegSafe will be approximately $125-150 per month. This cost will allow you to track 8 kegs. If you have a larger draft beer system, you can get another transceiver that will daisy chain into the first one. Each additional transceiver and set of bases will cost another $500 to lease.
Why Should I Consider KegSafe for My Draft Beer Inventory?
Bar-i has 10 years of experience providing inventory services. We currently perform about 200 inventory audits per month across 24 states. Based on this broad experience, we've found that the industry standard for inventory shrinkage is approximately 15-20%. In general, shrinkage for draft beer tends to be on the high end of this range and may potentially exceed 20% in some instances.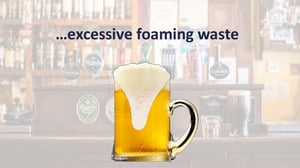 Draft beer products tend to have a lower yield than other products due to the natural waste associated with them. You can lose a significant amount of beer from foaming, cleaning your beer lines, and beer being left in the bottom of the keg. When this natural waste is combined with overpours and giveaways, it can result in a significant reduction in the performance of your draft beer products.
KegSafe provides you with the highly accurate data necessary to compare how many ounces of beer were poured vs. sold, and you can access this data in real time to identify specific employees or shifts where these products are performing especially poorly. By using this data to guide the operating procedures at your bar, you can significantly reduce the level of shrinkage in your draft beer products. Over time, the profits gained from these efforts will substantially outweigh the cost of this service.
If you'd like to learn more about how Bar-i can help you streamline your operations and maximize your profitability, please contact us today to schedule a free consultation. We serve bars and restaurants nationwide from our offices in Denver, Colorado.